Are you tired of tripping over boots in your mudroom or cluttered entryway? It's time to reclaim your floor space and say goodbye to the chaos with these brilliant boot storage ideas. From shoe organizers and shelving to decorative bins and storage cabinets, there are plenty of solutions available to keep your collection of tall boots, rain boots, and winter boots neatly organized.
With the right storage solutions, it's easy to get your footwear organized and give you peace of mind. Boot storage ideas range from simple to creative. To help you declutter your closets and keep your footwear organized, here are some genius boot storage ideas that everyone should consider.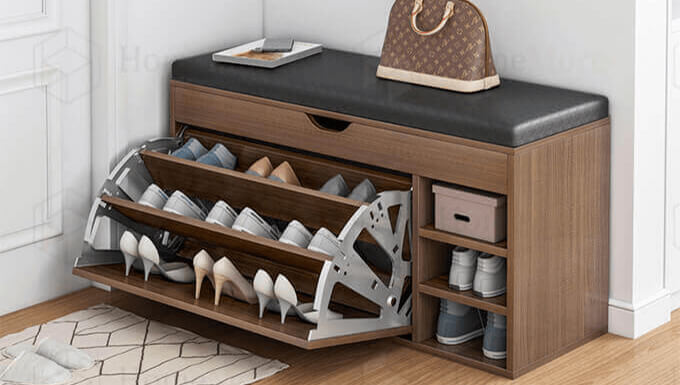 Shoe Racks and Cubbies: The Simple Solution for Flat Boots
Shoe racks and cubbies are probably one of the simplest solutions when it comes to boot storage. If you have a collection of flat boots, then look no further than a shoe rack or cubby. These pieces of furniture offer the perfect opportunity to store multiple pairs of shoes or boots in an organized manner. Keep your shoes organized by color, style, usage, material, whatever works for you. Plus, by keeping your footwear off the floor, you'll keep them better protected from dirt and dust.
Hanging Boot Organizers: Maximizing Vertical Storage Space
Hanging boot organizers make use of vertical storage space, which is a great way to keep your home neat and tidy. A hanging boot organizer typically takes the form of a canvas bag suspended from a hook or a rack attached to the wall. This type of storage is ideal for larger boots, plus it leaves room on the floor for other belongings. Plus, canvas bags come in a wide range of colors and designs, making it easy to match your existing décor.
Stackable Boxes and Shelves: The Pros and Cons of Each Storage Option
Stackable boxes and shelves are a great boot storage option if you need extra storage space. The great thing about stackable boxes and shelves is that you can add more storage as you need it. Stackable boxes come in a range of colors and sizes, making them suitable for most types of boot storage. However, bear in mind that with stackable boxes and shelves, it may be more difficult to see what's inside.
DIY Boot Storage Ideas: Affordable and Creative Solutions
If you're looking for an affordable, creative storage solution for your boots, why not take a look at some DIY boot storage ideas? This type of boot storage allows you to get creative and design a custom storage system that perfectly meets your needs. For example, you could use old shoe boxes, wooden crates, or other repurposed items to create a unique storage solution. The possibilities are endless.
Stylish Boot Storage: Incorporating Storage into Your Décor
When deciding on boot storage, it's important to consider how it will fit in with the rest of your décor. If you're looking for a stylish storage solution, consider cabinets, chests, and trunks. These pieces of furniture can easily blend into your décor and provide ample storage for your boots. Plus, since they can be closed, you can easily keep your boots out of sight and free of dust.
Using Your Closet Doors: Making the Most of Your Available Space
If you're short on space, then making use of your closet door is a great way to maximize the storage space you have available. One of the most popular closet door boot storage solutions is an over-the-door organizer. Over-the-door organizers are ideal for smaller boots and shoe accessories, as well as other items such as hats or bags.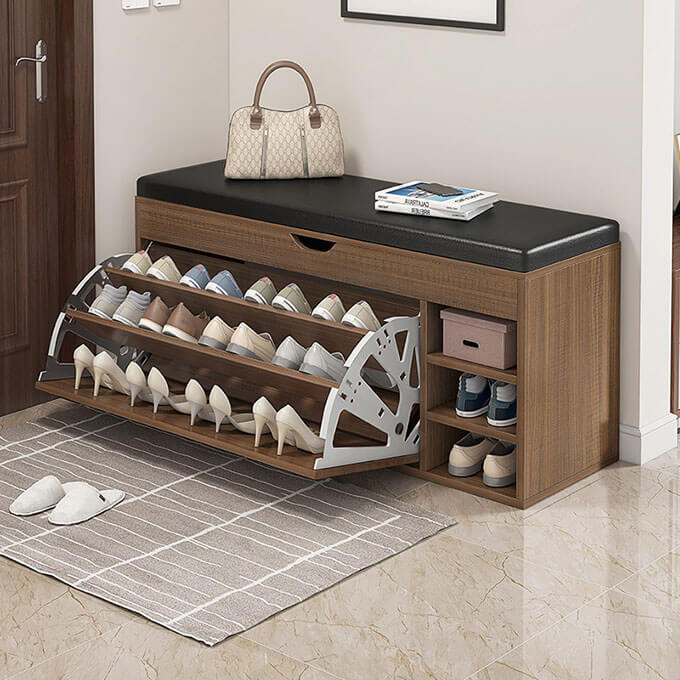 The Advantages of a Shoe Cabinet for Boot Storage
One of the perfect solutions for keeping your entryway clutter-free is a shoe storage cabinet. With its sleek design and efficient use of space, a shoe storage cabinet can store shoes of all sizes, including tall boots and cowboy boots. The compartments in the cabinet provide designated spaces for each pair of shoes, ensuring that your collection remains well-organized.
Over-The-Door Organizers: Ideal for Smaller Boots and Shoe Accessories
For a storage solution that will help you maximize the space in your home, consider looking into over-the-door organizers. Over-the-door organizers are great for storing smaller shoes and shoe accessories, such as scarves, gloves, and hats. They also offer a great way to keep your home neat and tidy and are ideal for small spaces.
Boot Cleaning and Maintenance: Tips for Prolonging the Life of Your Boots
When it comes to boot storage, it's also important to consider the proper care and maintenance of your boots. Regular cleaning and maintenance is essential for any footwear to help extend its life. Be sure to air out your boots after each use, and store them away in a cool, dry place. If you need to, you can also use a boot-cleaning product to help keep your boots looking like new.
Decluttering Your Closets: Other Organization Tips and Tricks
Organizing your boots is an important first step, but it's not the only way to declutter your closets. In addition to boot storage, consider other storage solutions such as coordinating hangers and boxes to keep your clothing and other items organized. If you need additional storage, consider adding shelves or other types of furniture.
Evaluating Your Boot Collection: When to Let Go of Old Boots
When deciding which boots to keep and which to let go of, it's important to assess the condition of your boots. If a pair of boots has seen better days, it might be time to let them go. This will free up storage space and allow you to keep only the boots that are in the best condition.
Conclusion:
Thanks to online platforms like Amazon and stores like IKEA, finding the perfect shoe storage solution has never been easier. Apartment Therapy even offers tutorials on DIY boot rack using dowels and casters, allowing you to create a custom shoe storage system tailored to your needs. With so many different boot storage options available, it's easy to find one that will meet your needs. Whether you're looking for a simple shoe rack or a creative DIY solution, you can easily declutter your home and create a neat, tidy, and organized space. So take the time to evaluate your storage needs and find the ideal boot storage solution for you. With the right boot storage, you'll be able to say goodbye to messy floors and enjoy a clutter-free home.