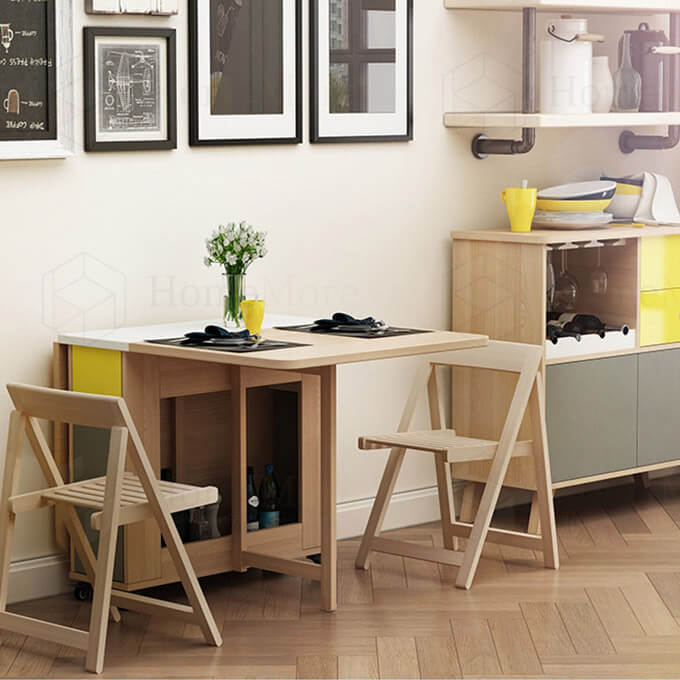 Consider the Size and Shape of Your Dining Room
Consider the Size and Shape of Your Dining Room When choosing a dining table, the size and shape of your dining room is the first consideration you'll need to make. Take detailed measurements of the entire space, including the width, length, and any defining features like windows, doors, or hallways. This will give you an accurate idea of the dimensions you're working with.
Be sure to allot ample clearance around the table for comfortable seating and movement. As a general rule, aim for at least 48 inches of clearance all around for round tables. For rectangular tables, you'll need 36-48 inches when chairs are pushed in and up to 60 inches when chairs are extended from the table.
The existing shape of your dining room will often dictate the best table shape as well. Long rectangular dining rooms are well-matched with oval or rectangular table shapes. Square dining rooms and spaces are better complemented by round or square dining tables.
If your dining room is on the smaller side, consider a pedestal style base without legs to maximize knee clearance. Bench seating can also help conserve space in tight quarters. An expandable table is also a great option for adapting to the shape and size of your dining room.
Determine Who Will Be Using the Dining Table
One of the most important factors in choosing a dining table is determining who will be using it on a regular basis. Consider your household members and how many people need to comfortably sit at the table. This will establish the ideal table size and dimensions you'll need to accommodate regular diners.
Also think about if you frequently host larger dinner parties or holiday meals. If so, opt for a table with extension capabilities or one large enough to seat those extra guests. The table size should allow for place settings and elbow room for each person.
If your household comprises just two people, a small round or square table for two is often perfect. Large families with kids or frequent guests will need a larger table size and more seating. Retirees who entertain only occasionally can size down.
Table shape is another consideration for diners. Round tables promote conversation and intimacy while rectangular tables allow more people per side. Square tables can also fit well in many seating configurations.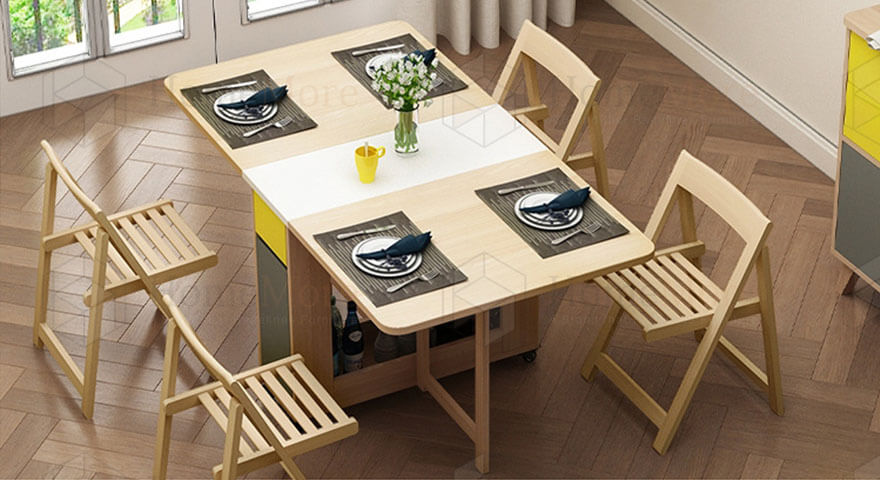 Choose a Dining Table Style That Fits Your Home
When selecting a dining table, an important design consideration is choosing a style that fits your existing home decor and complements the room. There are many dining table design styles to evaluate:
Contemporary dining tables have clean lines and modern shapes like oval, square, or unique geometric forms. Metal, glass, and wood are popular contemporary table materials. Go modern if you have an open-concept home or minimalist interior furnishings.
Farmhouse or rustic tables feature distressed wood finishes, vintage styling, and charming details. This style brings warmth and texture to casual spaces. Mix with shabby chic chairs for a relaxed feel.
Traditional dining tables highlight elegant wood finishes like mahogany or cherry and classic silhouettes like pedestals or ornate leg designs. Formal upholstered dining chairs suit traditional styling. This is perfect for classically decorated homes.
Transitional tables blend elements of traditional and contemporary with versatile, understated forms. Light distressing and mixed materials like wood and metal achieve the transitional look. Pair with transitional chairs to complement your transitional dining room.
No matter your personal decor, there is a dining room table design style to enhance your space and reflect your unique taste and personality while dining.
Select the Right Dining Table Size For Your Needs
Choosing the right sized dining table is about more than just the dimensions that will fit in your space. The proportions need to allow for proper clearances, seating capacity, traffic flow, and visual appeal.
A general rule of thumb is to allow for a minimum of 36 inches of clearance around the edges of the table for dining. This leaves ample leg room when seated and space to get up from the table. If it's a high traffic area, allow even more clearance like 42-48 inches.
The length and width of your table should comfortably accommodate place settings for each person, generally 24-30 inches per diner. Round tables need more overall space than rectangles to seat the same number.
Scale is important too – a table that overpowers your room will feel cramped. Conversely, a table too small can make the space seem empty. Look for a size and shape that fits your room's proportions.
Consider your lifestyle as well. Do you regularly host large parties that require extra seating? Plan for a table size that can expand or accommodate those instances. For everyday use, size for your daily household. You can always upsize with extra tables or seating as needed for occasions.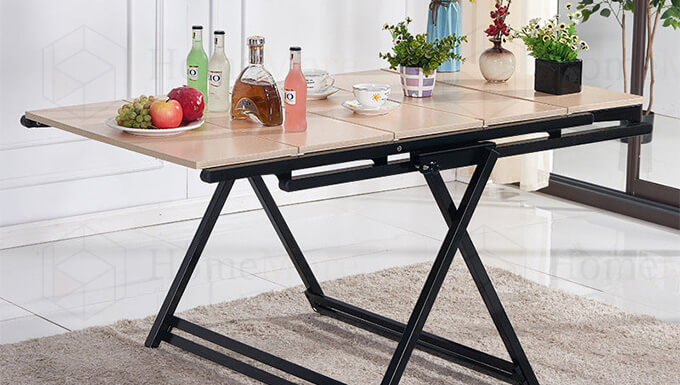 Extendable Dining Tables Offer Flexible Seating
Extendable dining tables, also called expandable or extension tables, are excellent choices for adapting to both small and large gatherings. This style offers the best of both worlds – a compact footprint for everyday and the ability to expand seating when you need it.
Extension tables have removable leaf inserts that can be added to increase the table length. The inserts blend seamlessly to maintain a unified surface and appearance. Popular options include trestle style, wishbone, and butterfly extension mechanisms.
When not in use, the table leaves can be conveniently stored to optimize your space. Extensions allow you to size up or down as needed for holidays, parties, family visits or other occasions when extra seating is required.
cThen remove them when just the regulars are dining.
Consider your current and future needs when deciding on an extendable table.
Evaluate Different Dining Table Shapes For Your Space
When evaluating dining tables, decide if you want to go with a round, square, rectangular or oval shape. All have distinct benefits to consider before selecting the right silhouette for your room.
Round tables promote conversation and intimacy. The curved edges soften the feel and allow diners to see and interact with everyone else at the table. Round works especially well in smaller spaces. The main limitation is you cannot add infinite leaves like some rectangular styles.
Square dining tables have a modern minimalist look. Four matching sides create a clean, elegant statement. Square tables can work in many room layouts and expand seating arrangements. However, the sharp corners can make navigating around it more tricky.
Rectangular tables are classic and versatile. The long shape can comfortably accommodate many guests when extended. This makes it easy to upsize for a party while right-sizing for everyday use. The rectangular silhouette also fits well in most dining spaces.
Oval tables combine the soft edge of rounds with the sleek look of rectangles. An elongated oval can add drama to your dining room. The tapered ends allow more seating without an overly wide table. It has a lighter visual footprint than rectangles.
Compare Dining Table Materials Like Wood, Glass and Metal
Dining tables come in a diverse range of materials, each with its own aesthetic and functional qualities. Considerations like style, durability, and maintenance can help choose the right table material for your home.
Wood remains the most popular choice for its natural beauty, warmth, and craftsmanship. Oak, maple, walnut, and mahogany are commonly used for their density, stainability, and grain patterns. Properly cared for, a wood table can become a treasured heirloom.
Metal like wrought iron, brass, or stainless steel has industrial appeal. It provides a sleek, modern look and requires little maintenance. Glass top tables boast transparent beauty while durable finishes like tempered glass resist scratching. Pair glass and metal for lightweight convenience.
Stone dining tables convey an elegant Old World charm but require sealing and can be prone to etching. Manufactured materials like marble composites offer appealing visuals with more durability and less upkeep.
No matter your choice, examine tables for quality joinery, sturdy bases, level surfaces, and smooth finishes. Your dining table should be constructed to last through countless family meals.
Choose Dining Chairs or Benches That Complement Your Table
Selecting dining chairs or benches that properly complement your table is key to creating a cohesive style. Ensure the chair and table finishes, designs and proportions work in harmony for both form and function.
Upholstered chairs provide plush comfort but require more maintenance than wood or plastic. Leather resists staining and cleans easily but is pricier. Wood chairs can match a coordinating table or contrast nicely with painted finishes. Metal chairs have an industrial appeal that pairs well with glass or stone table tops.
Benches can conserve space in small dining rooms. Built-in storage benches are also useful for stashing table linens and serving pieces when not in use. Match bench style to your table for fluidity.
For table proportion, allow for at least 24 inches of clearance between the chair back and the table edge. Seat width should be 18 inches per person minimum. Target 30 inches of table space per setting. Scale chairs appropriately to your table size and room.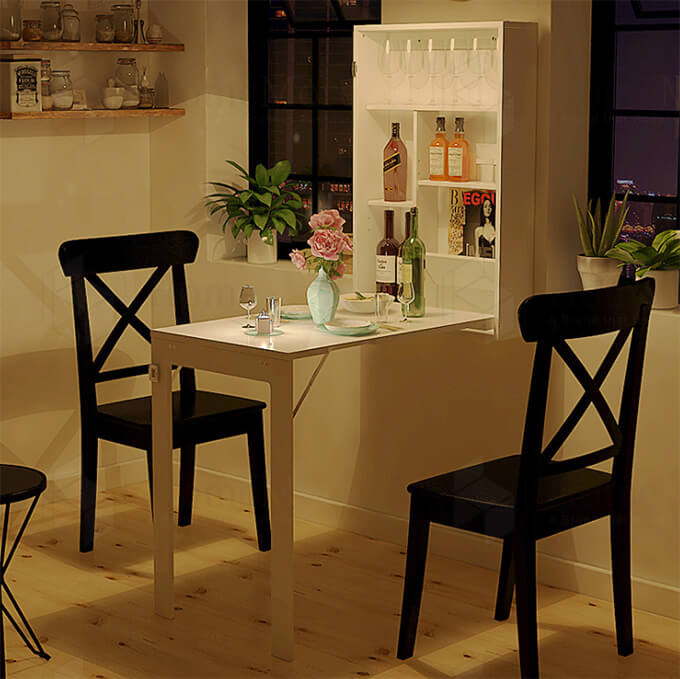 Measure Proper Clearances Around Your Dining Table
When positioning your dining table, be sure to measure for proper clearances to allow ample legroom while seated and space to move around the table.
As a general guideline, allow at least 36-48 inches of clearance between the edges of your table and surrounding walls, furnishings, or high traffic areas. This gives each diner room to pull out their chair and sit comfortably without bumping into obstacles.
For round dining tables, you ideally want a minimum of 48 inches of clearance from the table edges to accommodate the curved shape and floor space for chairs. Rectangular tables can often get by with 36-42 inches around, depending on chair size. Bench seating also needs less clearance than chairs.
Pay attention to work zones and circulation paths when planning clearances. Allow ample room to walk through dining areas without tripping or squeezing through narrow openings. Space for people to gather around the head or side of the table is also desirable.
If your dining area is in a high-traffic room or pathway, increase clearances to at least 48-60 inches for easier navigation. This also prevents accidental bumps and spills. Consider your lifestyle and entertaining habits while measuring clearances.
Formal vs. Casual – Dining Table Styles for Everyday or Special Occasions
| | | |
| --- | --- | --- |
| Type | Description | Best For |
| Formal | Elegant styles; hardwoods like mahogany; sophisticated pedestal bases; finely turned legs; oval or rectangular shapes; expansive proportions | Special occasions; holidays; entertaining |
| Casual | Simple molded woods or plastics; wood veneer tops; compact pedestal or leg tables; round or square shapes; smaller scales | Daily family meals; casual entertaining |
| Transitional | Subtly distressed woods; mixed materials like wood, glass and metal; simplified shapes; modest sizes | Versatile everyday dining and occasions |
Formal dining tables project elegance through details like finely grained hardwoods, graceful pedestal bases, and beautifully turned legs. Sophisticated oval and rectangular silhouettes make impressive statements when fully extended for festive holiday meals and dinner parties.
For daily family meals and relaxed entertaining, casual dining tables offer charming convenience. Round pedestal tables maximize seating in compact spaces. Square and rectangular styles can incorporate leaves that fold down when not in use. Playful materials like recycled wood, painted finishes and mixed media add personality.
Transitional dining tables strike a versatile balance suitable for both daily and special dining. Mixing distressed wood with materials like glass and metal blends formal and casual styling. Simplified table shapes in modest sizes serve routine dining but still elevate the room for company.
Create a dining space that suits both your lifestyle and entertaining needs. Having one practical table for daily use and a special expandable option for the company is a great solution.
Set a Budget Before Shopping for Your New Dining Table
Setting a realistic budget is one of the most important steps before shopping for a new dining table. Prices can vary greatly based on the size, materials, quality, and overall style you select. Establishing your budgetary limit will help narrow the options to tables you can comfortably afford.
Entry-level dining tables typically cost 500. These include simple molded plastic and wood veneer tops on basic metal bases. Affordable but often poorer quality.
Mid-range tables from reputable brands run 1,500. These include all-wood tops and mixed materials like wood, glass, and steel. Good construction and design at moderate price points.
Higher quality custom tables can cost 5,000. Here you get premium woods like oak and exotic hardwoods, fine hand-craftsmanship, unique designs, and designer name prestige.
Luxury artisan dining tables reach 10,000 and above. Made from rare imported woods, polished metals, glass, and hand carving. Prestigious furniture brands.
Used and antique tables offer quality and charm at lower price points but limit selection. Custom ordering can maximize your budget for made-to-fit pieces. Determine what price suits both your space and finances.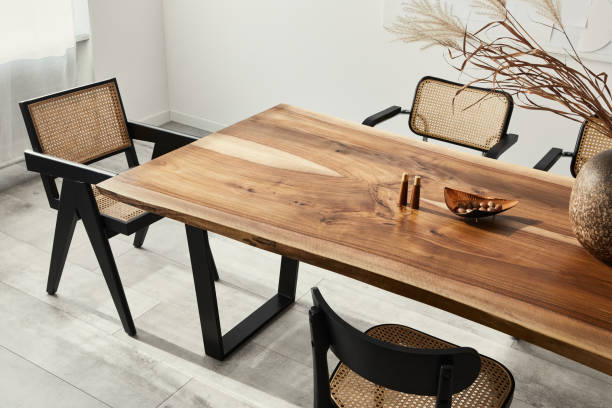 Shop Online vs In-Store For the Best Dining Table Selection
There are advantages to both online and in-store shopping when searching for your perfect dining table. Deciding what will work best for you can help narrow your options.
Online table shopping allows you to view a wider selection of styles and compare pricing from multiple retailers. Sort by size, color, material, price and other filters to find options. Read buyer reviews. Drawbacks are not seeing pieces in person.
Shopping in physical stores allows you to evaluate tables hands-on. Examine details like wood grain, color variations and construction quality. Get expert sales advice. Selection is often more limited than online.
Many retailers now offer both e-commerce sites and brick-and-mortar showrooms. Browse online then visit the store to see favorites in person. Some offer try-at-home sample programs as well. This combines the selection of online with the tactile experience of in-store.
For custom work, find a local woodworker or carpenter to design and build a one-of-a-kind dining table tailored to your space and needs. Shopping local allows close collaboration.
Weigh the pros and cons of both online and in-store table shopping to determine your best option. Mixing both methods can maximize selection, value and inspection.
Order Dining Table Samples to View Finishes In Person
Before committing to a dining table purchase, consider ordering finish samples from manufacturers. This allows you to see the colors, stains, materials and wood grains firsthand.
Finish samples are usually free or low cost. They ship quickly to your door so you can view them in your own dining space. Seeing a sample board in your room's lighting is more accurate than on a monitor.
This can help prevent disappointing surprises after delivery. Subtle finish variations that appear different online often look cohesive once samples are seen together. You can also match samples to other woods in your home.
Samples allow you to decipher if a finish leans more gray, brown, red, or yellow undertones. Cool or warm cast? Distressing levels? Actual glass color? All are hard to distinguish digitally.
Be sure to order samples of chairs, buffets, or any other coordinating pieces to complement your table. You can mix and match pairings before purchasing the entire collection.
While not as ideal as seeing the full table in person, finished samples allow you to inspect colors, textures, and sheens firsthand. This helps ensure your dining room vision comes to life.
Consider Longevity When Choosing Dining Table Materials
The materials that compose your dining table have a significant impact on its durability and longevity in your home. Consider how the following qualities affect lifespan:
Hardness: Dense woods like oak and maple resist dents, scratches, and wear over softer pine. Granite tops are extremely scratch-resistant.
Strength: Durable woods like walnuts have high strength for stable joints. Materials like metal and stone are incredibly strong. Glass tops require sturdy underlying support.
Stability: Exposed wood can split or crack from weather changes. Look for plywood cores with veneers for stability.
Rust resistance: Outdoor metal tables need weather-resistant finishes like powder coating to avoid rust corrosion. Stainless steel lasts longest outside.
Waterproof: Most wooden furniture requires sealing to resist water damage and warping. Synthetic weatherproof wicker works great outdoors.
Scratch proof: Tempered glass dining tops help prevent surface scratching and scuffing from serving ware. Polymer coatings add scratch protection.
Choose proven long-lasting table materials or read reviews to discover real-world durability. Your dining table should provide decades of dinner gatherings with routine care. Quality construction ensures an investment that withstands the test of time.
Protect and Care For Your Dining Table Properly
Investing in a quality dining table means protecting it for longevity through proper care and maintenance. Here are the top tips for caring for your table:
Use placemats and tablecloths to prevent direct damage from hot dishes, spills, and scratches. Rotate placemat location.
Clean spills immediately to avoid permanent stains and water rings. Damp cloth wood; glass cleaner for glass.
Use felt pads under heavy tableware like charger plates to prevent surface scratches.
Dust and polish your table regularly to prevent dirt buildup in wood pores or abrasions.
Maintain humidity levels in your home to prevent cracking or splitting wood over time.
Avoid harsh cleaners and scouring pads that can damage protective finishes.
Hydrate, sand and refinish wood periodically per manufacturer directions to refresh the appearance.
Protect tables from direct sunlight that can degrade, discolor, and warp materials over time.
Lift don't slide objects across the table to prevent surface scratching.
Regular cleaning and upkeep make a dining table shine. Preventative care preserves its beauty and integrity for generations of family meals. Cherish your table by keeping it in the best condition possible.
Conclusion
Choosing the perfect dining table is an exciting process that results in the centerpiece of your dining room. By thoughtfully considering your space, entertaining needs, style preferences, and budget, you're sure to find a table that checks all the boxes. Doing your homework on size, shape, and materials will ensure your new table serves you well for many years.
Measure carefully, shop both online and in stores, order samples, and envision how different styles will fit your life. The right dining table brings family and friends happily together for holidays, special occasions, and everyday meals. With practical information and imagination, you can confidently choose a perfect dining room table tailor made for lasting memories around your own home table.