The demand for smart furniture is increasing. Smart furniture now supports a wider range of technologies, including wireless charging for smartphones, mirror displays for the time, date, and news, and sensors built into the furniture that monitor the user's health. Because of this, businesses are increasingly implementing smart office furniture.
Also, a growing number of end users are switching to smart furniture because of the various transformational features offered by the furniture, such as side tables with Wi-Fi and speakers. These factors are anticipated to fuel the expansion of the global market for smart furniture. This article discusses everything about smart homes furniture.
What is Smart Home Furniture?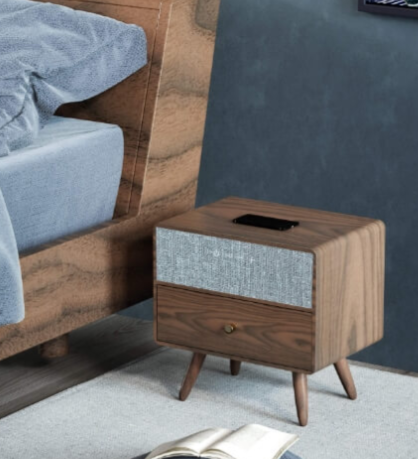 Smart furniture is a developing trend that offers homeowners contemporary and practical answers to their daily demands. With its stylish and practical design, this new age of furniture gives homes a modern, comfortable feel. Smart furniture includes sensors and cognitive technologies for improved functionality, such as wireless charging and Bluetooth speakers in coffee tables.
Smart furniture technology can be integrated into a couch, chair, or table to make it more accessible and simple to use in terms of design. The objective is to create multi-functional items that improve a user's lifestyle and can be used in any home.
Smart houses and smart furniture are closely related ideas. Fundamentally, it involves combining several gadgets under one roof and allowing users to control them using a smartphone or tablet. It goes far further and is much more controlling than simply switching lights on or off.
Smart furniture manufacturers incorporate cutting-edge technology into furniture design to offer workable answers to problems encountered every day. Smart furniture solutions are revolutionary, offering anything from built-in USB ports for powering electronics to adjustable headrests for maximum comfort. Furniture with such great functions is here to stay, and its demand will grow in the future.
Seven Smart Furniture Technology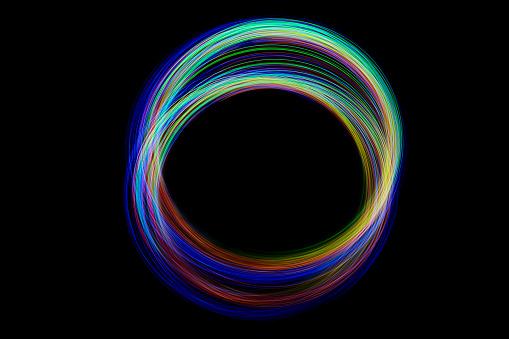 Home smart furniture has various integrated technologies to enhance its overall functionality. Some of those technologies are: 
Wireless Charging: Modern features like wireless charging can be seen in certain smart furniture. It enables users to quickly charge USB-enabled gadgets without dealing with cords or wires.
Fingerprint Unlock: This is a type of biometric security technology that helps smart furniture to reach that next-level technology level.
Built-In Bluetooth Speaker: Bluetooth speakers integrated into smart furniture can wirelessly receive digital audio.
USB Ports: People can now quickly charge their electronic gadgets without using cumbersome chargers or electrical outlets thanks to the widespread adoption of USB ports, now included in smart furniture.
LED Light: Smart furniture includes lighting as well. LED lights are used in furniture to enhance its capability of creating an ambiance.
RGB Light: RGB lights are short for red, blue, and green LEDs. These three colors are combined in RGB light devices to create over 16 million different shades of light. These lights are used in smart home furniture to illuminate a space without consuming much energy.
Sensor Light: Modern smart furniture is gaining more and more traction with smart features like sensor lighting. Sensor lighting is a sort of lighting that is sense-controlled.
Partial Types Of Smart Furniture For Small Spaces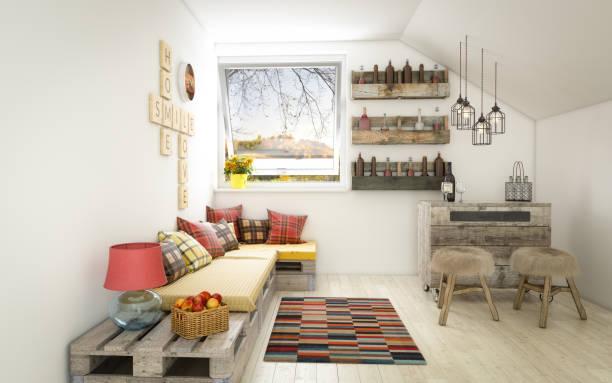 The prevalence of small homes is rising as cities get more and more congested. Tiny spaces require innovative furniture solutions to maximize their capacity, including both practicality and elegance. The following section includes various types of smart homes furniture based on their space.
Smart Furniture For Living Room
The place where anything and everything happens is the aptly titled living room. Family and friends naturally congregate in the living room, so it should be furnished with chic, cozy, and welcoming furniture pieces. Continue reading to look at some smart furniture options for living room that serve aesthetics and functionality equally.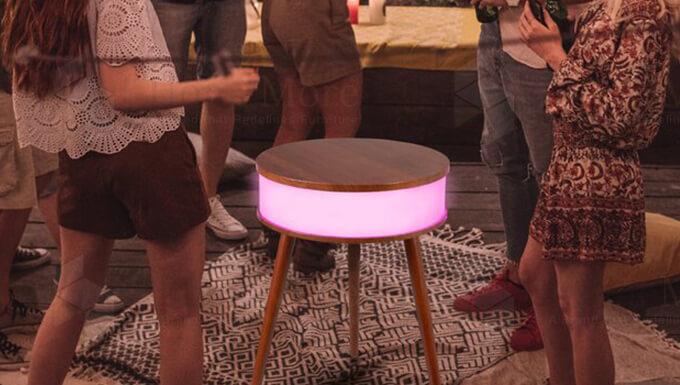 Smart side tables are a wise investment for anyone building toward a complete smart home. Because they include wireless charging technology, smart side tables are made to make life a little bit simpler. Users don't need to buy separate speakers because smart side tables have Bluetooth speakers.
These tables take up less room and are simple to shift from one room to another. As a result, the user may use those smart features from any location, which is the perfect smart furniture for small spaces. These features encourage the sale of these amazing, feature-rich tables, which are flying off the shelves.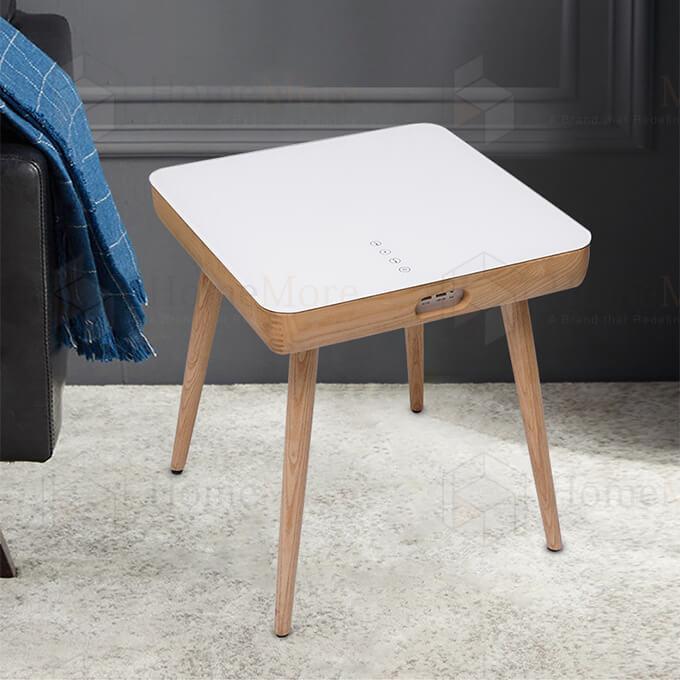 A smart coffee table is a piece of furniture with a centrally located, practical surface for usage in a living space. Smart coffee tables go beyond the basic function of a coffee table by integrating technology into their smart furniture design.
A smart coffee table's USB ports are one of its standout features since they make it simple for users to connect and recharge their gadgets while lounging on the couch. Some offer wireless charging as well. A smart coffee table is a useful addition to any contemporary, technologically advanced home, thanks to these practical charging ports.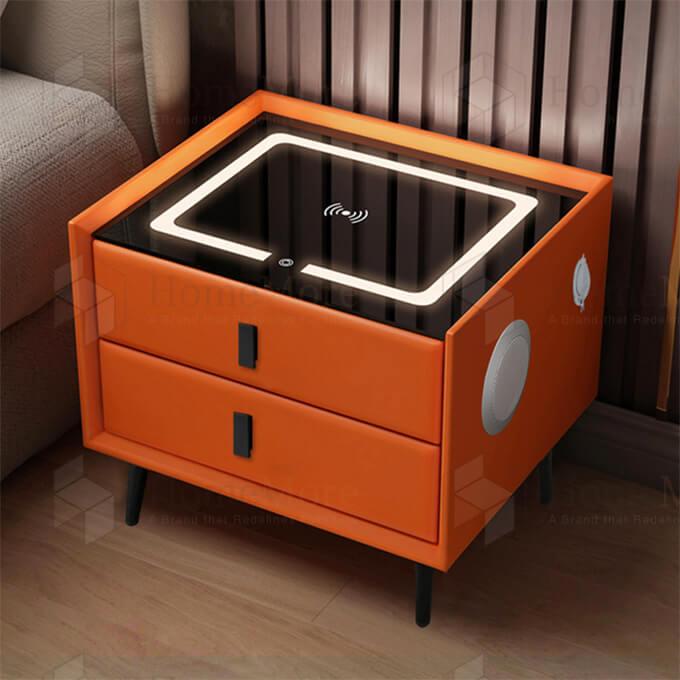 One of the bedroom's essential pieces of furniture is the bedside table. It is mostly used for the storing and positioning of lamps in bedrooms. Other than that, it serves no other purposes. A smart bedside table, however, is packed with novel features.
A smart bedside table's sleek and simplistic form makes it the ideal addition to any home. To enhance the atmosphere and convenience of the bedroom, smart bedside tables are equipped with electrical features like speakers, USB ports, wireless charging, and RGB lighting.
Smart Furniture For Workplace
There are countless different varieties of smart office furniture. A wide variety of unique styles and designs have given rise to brand-new variations on every sort of standard furniture. The selection of smart home office furniture is shown below.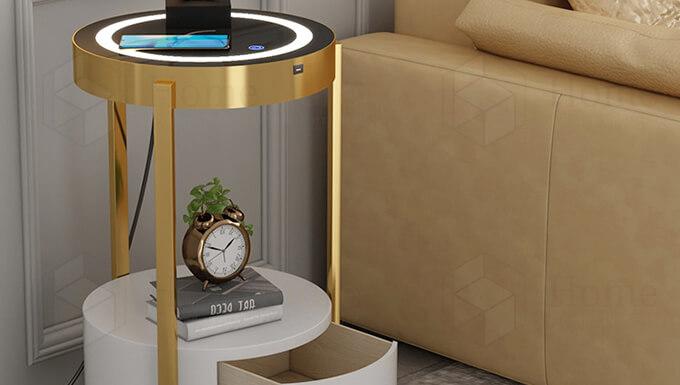 Shelf tables frequently include extra features like USB ports, storage, and sometimes even wireless charging options in addition to their traditional role of storing drinks and lighting. Furthermore, a control system or a smartphone app can be used to operate some shelf tables. The multi-purpose, transformable shelf table is a real space saver.
Also, the smart shelf table has an intelligent fingerprint recognition system that rapidly unlocks the device and can save ten different fingerprints. Whether in the living room or the bedroom, this classy side table may gracefully adorn a place for the exhibition of books, lighting, and decorative items.
More outlets, concealed cord management, USB ports, built-in chargers, and changeable display settings are all features of smart desks. Additional distinctive elements could include adjustable workplace solutions and LED light strips to help in low-light conditions.
Smart desks enable users to locate what they require to facilitate the creation of the optimum working environment, considering they have so many features as furniture with technology.
The market for home smart furniture is expanding, and smart lighting is a useful addition. They offer enhanced safety and control choices in addition to the energy economy. These smart lights can be handled from a smartphone, providing ease and peace of mind. The lights continuously observe and pick up on the occupants' normal lighting habits.
Smart Furniture For Bathroom
Perhaps a bathroom isn't the first location that comes to mind when someone discusses smart home technology. But smart furniture for the bathroom is a thing now. The smart bathroom furnishings listed below offer ambiance, comfort, and efficiency.
An item of smart tech furniture called a "smart mirror" combines the features of a standard mirror, TV, and speaker. A Bluetooth speaker that is integrated into a smart mirror enables customers to use it as a waterproof radio and play music while getting ready in the shower.
Furthermore, with LED lights, this bathroom accessory has a stylish appearance. Two-way mirrors with an integrated display are some examples of smart mirrors.
A smart faucet is equipped with technology that enables it to carry out its typical functions in a manner that renders life simpler and/or more effective, comparable to any other smart gadget in a home.
Voice controls, motion sensors, temperature controls to ensure the water never gets excessively hot or cold, and efficiency monitors to help with water conservation and lessen unnecessary waste are all potential features.
Smart showers give homeowners complete control and visibility over every facet of their house's showers. Homeowners will be capable of starting the shower, warming it to the preferred temperature, and even receiving a text or voice message letting them know the shower is ready from a mobile device or tablet with a voice assistant.
Benefits Of Smart Furniture Design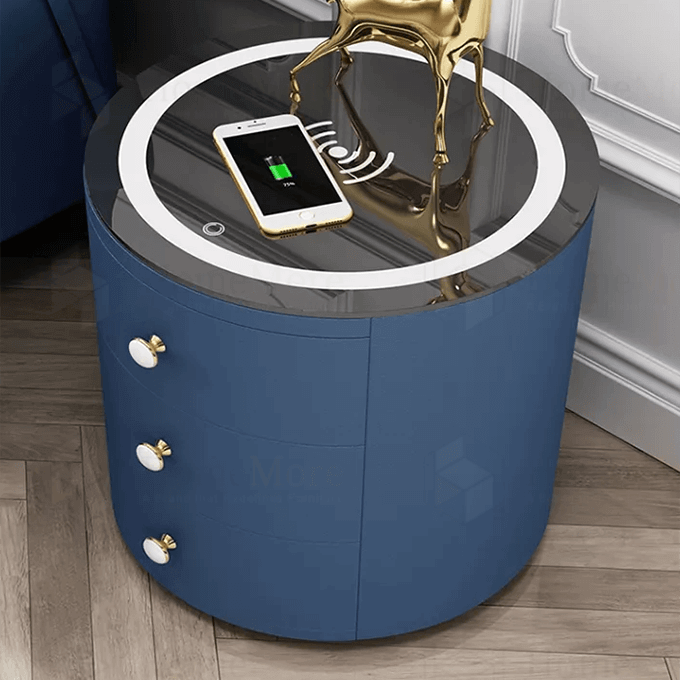 Furniture is most often seen as an investment that can improve the overall atmosphere of a home or place of business. A beautiful atmosphere can be created with smart furnishing and an iconic scene from the surroundings. Smart furniture offers various benefits to users. The following section discusses the benefits of smart furniture design and why a business should consider providing these to their end-users.
Space is getting more and more expensive due to the ongoing population growth. Since most people nowadays tend to live in smaller apartments, there is a demand for innovative small-room furniture ideas. Everyone is searching for compact, portable smart furniture for small spaces that provides all-around benefits; thus the space-saving smart furniture industry is quite profitable.
The best approach to make the most of the space in the house is with smart home furniture choices. Smart furniture can be useful whether there is a small flat or only a requirement for extra storage for trinkets. From classic pieces like tables and shelves to contemporary space-saving furniture like multi-functional sofas, smart furniture may take many different forms.
Smart home furniture options are made to assist people in maintaining an orderly and clutter-free area. Built-in storage is a feature of a lot of smart furniture pieces. If someone doesn't have a lot of room or wants to make the most of a room's storage capacity, this can be extremely useful.
Provide Convenience For Users
Smart furniture is made to make daily tasks easier and more efficient, giving individuals more time and energy to concentrate on important things. Also, a number of these electronic furniture items come with the newest technological innovations that make a living as simple as possible. 
For instance, a wireless charging station built into a smart coffee table can make it easier for users to stay connected and powered up without having to deal with wires and chargers. Many other benefits that smart furniture provides a home enhance user comfort. Depending on the style of furniture, this may have features like USB battery charging port space, LED lighting, and many more.
Keep Up With Modern Style
Smart furniture raises the profile of a straightforward bedroom and is available in eye-catching hues and modern designs. Furniture for smart homes frequently looks the same as conventional furniture. Smart furniture can be modified to meet the specific preferences and requirements of the user. Smart furniture may offer each user a unique and catered experience by allowing them to change settings, designs, and functions.
Furniture with technology may be the ideal technique to display the various furniture styles and hues. Smart furniture pieces may be a wonderful addition to any home's decor because of their clean lines and contemporary appearance. They also work well for concealing unsightly components like cables and lead acid battery manufacturers, giving homeowners a neat and uncluttered appearance.
In all contexts, furniture has a considerable impact on the organization and decoration of the space in addition to the comfort of the users. With the development of technology, rising demand for comfort, enhanced aesthetics, and enhanced space management, the market for smart furniture has experienced tremendous growth. Any businesses that benefit from the market upswing will see substantial profits as a result.
Conclusion
Although it may be utilized in huge places without any issues, smart tech furniture is made to fit compact spaces. The reality is that these furnishings were created to satisfy brand-new societal needs, specifically those of small homes and apartments. Hence, smart furniture guarantees improved space use without compromising convenience or even the aesthetic concept.
Smart furniture is created with an emphasis on aesthetics and functionality, and it can also incorporate the most recent IT innovations, enabling users to connect the furniture to their smartphones. As disposable money rises and habits change, the market for smart furniture is expected to grow globally.
In modern living arrangements, practicality and smart living are essential, and consumers' buying patterns are influenced by user experience and comfort. HomeMore reinvents the usefulness of furniture in a living area by providing items with extra functions and usefulness influenced by modern technology.
HomeMore is a smart furniture manufacturer that differs from others by incorporating cutting-edge technology and trends into the creation of furniture. They develop goods with great qualities as a top producer of smart furniture, so they provide exceptional benefits and have a long shelf life. Contact HomeMore to get the highest-quality smart furniture that satisfies your client's needs and subsequently helps your business succeed.