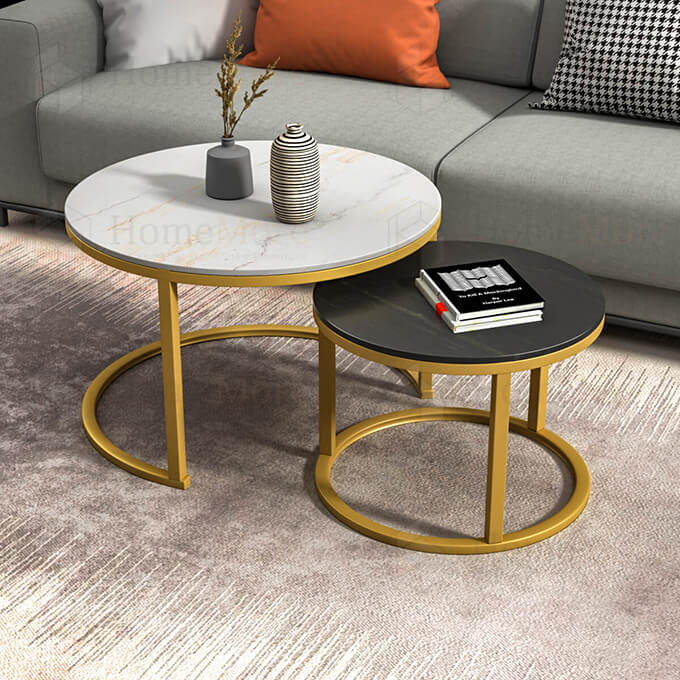 Overview of Cocktail Tables and Coffee Tables
What exactly the difference is between a cocktail table and a coffee table. Both types of tables are super common in living rooms and seating areas, but they're not exactly the same.
A cocktail table, sometimes called an occasional table, is usually smaller and closer to the ground than a coffee table. It's meant for use when you're sitting on a couch or lounge chair – perfect for putting your drinks, snacks, books, and other goodies within arm's reach. Cocktail tables tend to be more decorative, with intricate designs and details that make them accent pieces.
Now, coffee tables are bigger and taller than their cocktail-sipping cousins. They're designed to be paired with couches and sectionals, with enough leg room underneath to sit comfortably. Coffee tables are usually rectangular while cocktail tables can be round or square tables. Here's a tip – think of coffee tables as essential living room pieces and cocktail tables as optional extras if you want a spot for lamps and décor.
Both types often have storage like shelves or drawers. But cocktail tables really embrace the fancy details, with carved wood, glass tops, and metal accents. Coffee tables are simple and sturdy since they see more everyday use. When deciding between the two, think about your seating, how you'll use the table, and the look you're going for. Hopefully this gives you some clarity on cocktail vs. coffee tables!
The History and Origins of Each Table Type
Now let's dive into a little history – learning about the origins of cocktail tables and coffee tables gives insight into their different functions.
Coffee tables actually came first, becoming popular in Victorian England in the mid-1800s. Back then, they were used while drinking tea and socializing in the parlor or sitting room. The name "coffee table" stuck since afternoon tea was eventually replaced by afternoon coffee in many European homes. They were signs of luxury and only found in the homes of the wealthy early on.
Cocktail tables emerged later in the 1920s during Prohibition in America. With speakeasies in full swing, people needed smaller surfaces in living rooms to rest drinks on while sitting around chatting and listening to music. The lower height allowed guests to easily reach their martini or Manhattan off the cocktail table.
So in summary, coffee tables originated as literal coffee tables in 19th century England, while cocktail tables were born in the early 20th century as a compact surface for serving cocktails in American homes. The history gives you a clue about their different intended uses!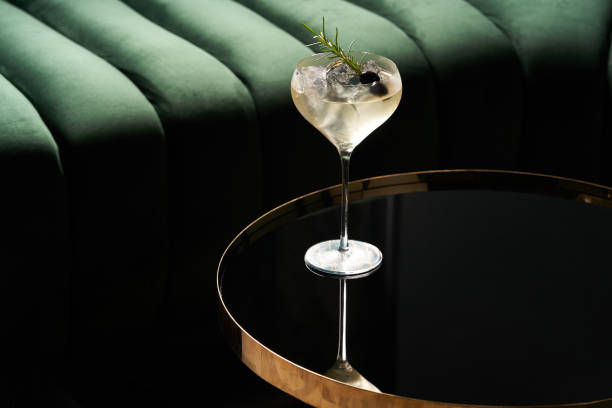 Defining Key Differences in Shape and Size
When it comes to shape and size, there are some clear distinctions between coffee tables and cocktail tables.
Coffee tables are usually rectangular – think of the classic wooden trunk style. But they can also come in squares, ovals, and even round coffee tables. The key is that coffee tables have a good deal of surface area, around 40-60 inches wide on average. This gives you room to spread out books, decorate with vases and trays, and play games or puzzles. Coffee tables are often the same width as the sofa or sectional they are paired with. (Check Out Our Blog About Coffee Table Dimensions)
Cocktail tables on the other hand tend to be more petite and compact. You'll find lots of cocktail tables in classic square shapes, but they also come in circles, ovals, rectangles, and abstract shapes. They range from 20-40 inches wide on average. The small surface area keeps them from taking up too much space. Their size makes cocktail tables super versatile too – you can easily move them around!
In terms of height, coffee tables are usually between 16 to 20 inches tall. This leaves enough legroom to sit comfortably on the couch. Cocktail tables are lower, ranging from 12 to 16 inches in height. This puts drinks and snacks within easy reach. The lower height also enables short and long-term seating around cocktail tables.
So in review, coffee tables run larger while cocktail tables are daintier. Coffee tables prioritize generous surface area and legroom, while cocktail tables offer versatility and easy access. Hopefully this clears up the key size and shape differences between the two! Let me know if you need any clarification before I tackle the next section.
Typical Materials Used in Construction
When it comes to materials, coffee tables, and cocktail tables have some overlaps but also some distinct differences.
Coffee tables are often made of sturdy hardwoods like oak, maple, mahogany, or walnut. The durable solid wood stands up well to everyday use in high-traffic areas. Some coffee tables incorporate stone coffee tabletop like marble or slate for an elegant look and feel. Metal frames with wood or glass tabletops are also popular for industrial-style coffee tables.
Cocktail tables open up more decorative material options because of their delicate scale and accent function. You'll find lots of glass, acrylic, and mirrored cocktail tables that help small spaces appear more open. Metals like brass, copper, and chrome are used for a glamorous feel. Cocktail tables also incorporate ceramic, lacquer, stone, and marble for a luxurious and artistic cocktail tabletop. Delicate woods like birch lend visual lightness suiting cocktail tables' petite proportions.
Comparing Popular Design Styles and Aesthetics
When it comes to different design aesthetics, cocktail tables, and coffee tables each lend themselves to certain decorative styles.
For coffee tables, the most popular design styles are:
| | |
| --- | --- |
| Different Styles | Description |
| Rustic | Made from rough wood for a natural, earthy look |
| Farmhouse | Simple and functional with wood stain colors |
| Mid-Century Modern | Clean lines and geometric shapes define this 1950s retro style |
| Industrial | A blend of metal, wood, and concrete for an edgy, factory vibe |
| Traditional | Classically styled rectangular tables with ornate wood details |
Cocktail tables embrace more glamorous and ornate looks:
| | |
| --- | --- |
| Different Styles | Description |
| Hollywood Regency | Flashy and opulent with glossy lacquer, lucite, chrome and glass |
| Art Deco | Harkening back to 1920s decadence with exotic wood veneers and inlaid geometric patterns |
| Victorian | Elaborate shapes and finishes like carved wood legs, marble tops and gold gilding |
| Glam | Mirrored and glass cocktail tables lend a dramatic, reflective surface |
| Contemporary | Modern geometric forms in an array of sleek materials and custom colors |
Coffee tables align with casual, everyday styles like rustic and industrial. Cocktail tables lend themselves to flashy, ornate aesthetics that act as striking accent pieces. So consider the overall room style and your existing furniture styles when choosing between these two table varieties! Don't know what's your furniture styles? Learn from our blog: Essential Guide to Different Furniture Styles
Functional Differences and Intended Uses
Coffee tables and cocktail tables also differ when it comes to their functional uses within a living room or seating area.
Coffee tables are meant to be used alongside sofas and sectionals. Their surface area provides room for entertaining and serving guests. You can place charcuterie boards, dessert stands, or trays of coffee mugs on a coffee table. The taller height also accommodates playing board games or doing puzzles. And of course, they work great for propping up your feet!
Cocktail tables are designed more for personal use while lounging in chairs or sofas. The smaller surface area accommodates individual drinks, small plates or bowls, books, remotes, and other personal items. Their low height and size make cocktail tables easy to reach and move around. The petite proportions work well in small spaces too.
Some other differences:
Coffee tables allow enough leg room to sit comfortably on a couch. Cocktail tables fit in tighter spatial footprints.
Cocktail tables work nicely between two lounge chairs or sofas. Coffee tables align better with sectionals.
Cocktail tables provide a surface behind or beside a sofa. Coffee tables usually go in front.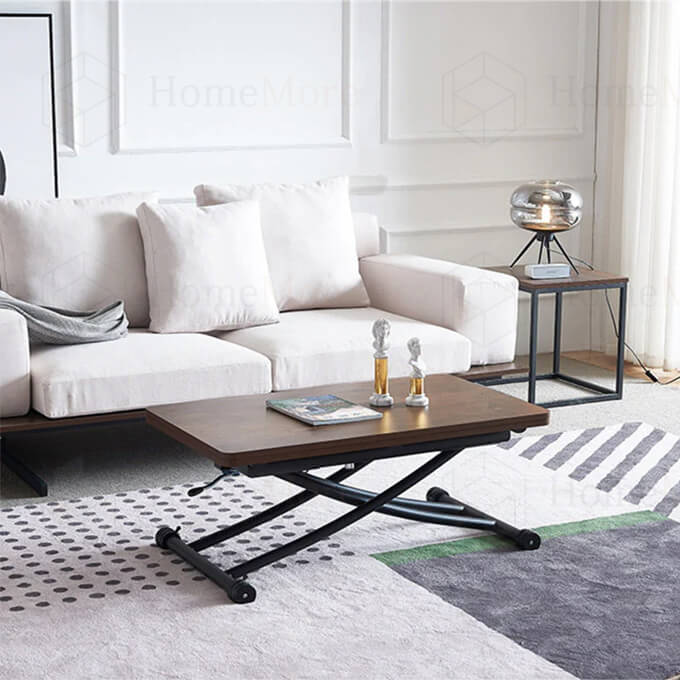 Factors To Consider When Choosing Between the Two
| | | |
| --- | --- | --- |
| Factor | Coffee Table | Cocktail Table |
| Seating Arrangement | Pairs well with couches and larger sectionals | Matches better with individual chairs and loveseats |
| Space Available | Works best with ample room to walk around | Fits in tighter footprints |
| Traffic Flow | Better for high traffic areas and entertaining | For more occasional personal use |
| Table Usage | Provides ample surface area for serving guests | Offers less space – just for a couple drinks and remotes |
| Aesthetic Style | Skews casual – farmhouse, industrial, etc | Embraces flashy, glam styles |
| Added Function | Storage space or lift-tops for games | Less focus on function |
| Budget | Larger size means bigger price tag | More affordable accent purchase |
| Existing Furniture | If you have a sectional, this makes sense | With individual chairs, this fits better |
There are always exceptions, but weighing these key factors will help narrow down your optimal table choice. Don't forget to measure your space and seating to find a properly scaled option too!
Pros and Cons of Cocktail Tables vs. Coffee Tables
Cocktail tables and coffee tables each come with their own set of pros and cons to weigh:
| | | |
| --- | --- | --- |
| | Coffee Table | Cocktail Table |
| Pros | – Provide ample useful surface area – Standard furniture piece that matches most sofas – Sturdy and built to last through years of use – Leg room for comfortable couch seating <br> – Accommodates games, puzzles, serving food, etc. | – Smaller size fits in tight spaces – Lower height makes drinks/items easy to reach – Lightweight and easy to move around – Affordable and less financial commitment – More decorative styles and materials to choose from – Can be used alongside chairs or sofas – Multi-functional as side table, plant stand, etc |
| Cons | – Larger size can dominate smaller living rooms – Higher cost investment than accent cocktail tables – Standard sizes may not fit every unique space – Glass tops prone to scratching over time – Heavier than cocktail tables if needing to rearrange | – Limited surface area not ideal for entertaining – Less leg room for lounging compared to the coffee table – Not as common – harder to find at times – Often need coffee table in addition if main seating is couch – Shorter lifespan than sturdier coffee tables |
As you can see, both tables have their lists of pros and cons. Choose based on your priorities like budget, seating arrangement, required functionality, and size constraints. And you don't have to pick just one – having both types can provide design flexibility!
Ideal Placement and Layout Considerations
Proper placement of coffee and cocktail tables requires some forethought. Here are some ideal placement tips:
Coffee Tables:
Position centered in front of main seating like a couch or sectional
Make sure there's at least 18-24 inches of leg room around all sides
Angle corner slightly if next to a walkway to avoid bumping
Place long side parallel to sofa if going for a rectangular shape
Allow minimum 1-2 feet behind for traffic flow if floating in room
Cocktail Tables:
Flank end seats of a sofa or between two lounge chairs
Angle diagonally in corner formed by L-shaped sectional
Nestle beside armless chair for personal surface area
Float symmetrically between two sofas facing each other
Position against back wall of couch to avoid blocking passage
Cluster two or three together to create a tablescape
Some other tips:
Balance surface areas like a large coffee table with two smaller cocktail tables
Make sure room for feet underneath if sitting directly across from table
Consider traffic flows and entrances/exits when positioning
Take measurements and play around with floor plans when deciding on placement. The layout impact both aesthetic appeal and functional use.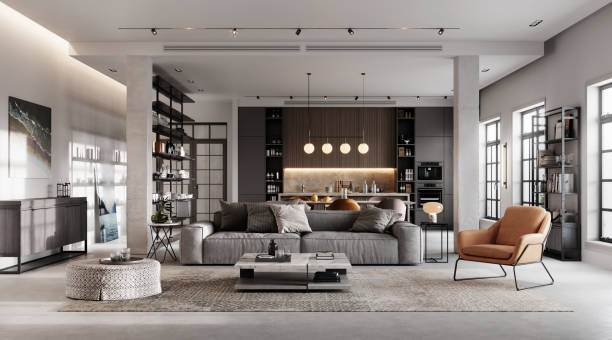 Storage and Other Practical Features to Look For
Beyond surface functionality, coffee tables and cocktail tables can provide handy storage solutions too.
For coffee tables, popular options include:
Lift-top coffee tables – Flips up to reveal interior storage for remotes, blankets and more.
Trunk coffee tables – Chest shaped with storage space inside the base.
Cabinet coffee tables – Doors or drawers built into the sides or base.
Shelf coffee tables – Open or closed shelving under the tabletop to neatly stow items.
Ottoman coffee tables – Lift the hinged top to concealed storage within the ottoman base.
For cocktail tables, common storage solutions include:
Drawers – Small cocktail tables may have a single drawer built right into the front.
Shelves – Open shelves under the tabletop offer display space.
Cabinet doors – Enclosed cabinetry hides clutter while adding design interest.
Risers – Small tables placed on risers create a shelf space underneath.
Tray tops – Removable trays on cocktail tables reveal storage below.
Baskets – Woven baskets or fabric cubes slide neatly under cocktail tables.
Multi-functional furniture is a smart way maximize storage and utility in any living room. And convenience features like charging ports, lighting, casters, and tray attachments also increase usefulness for both coffee and cocktail tables. Thinking through desired features will help narrow the selection.
Mixing and Matching Cocktail and Coffee Tables
Don't feel limited to just one or the other when selecting tables. Mixing cocktail tables and coffee tables allows you to enjoy the benefits of both. Here are some stylish ways to incorporate each table type:
Anchor with a coffee table and accessorize with 1-2 cocktail tables flanking a sofa or sectional. This provides both ample surface area and easy personal access.
Float a rectangular or oval cocktail table behind a standard square or rectangular coffee table. Great for additional space if entertaining larger groups.
Use a large square coffee table with a round cocktail table on one side to soften the look. The contrasting shapes add interest.
Pair a substantial coffee table with nesting cocktail tables that can tuck underneath when not in use. This maximizes versatility.
Select a statement coffee table as the centerpiece and surround with simple, affordable cocktail tables for accent.
Opt for a long, narrow console-style coffee table with a petite cocktail table at one end. This creates a handy side surface.
Choose a trunk coffee table that doubles as storage and top with decorative trays and cocktail tables for display.
Alternatives Like Ottomans and Sofa Tables
Beyond dedicated coffee and cocktail tables, some other pieces of furniture can also fill the same functionality:
Ottomans – Round, square, or cube ottomans with tray tops make movable multifunctional surfaces. Look for ones with storage inside the base. Nestle beside a chair or sofa.
Benches – Long, low benches can be substituted as coffee tables. Choose cushioned tops for comfort or wood for utility. Match length to the sofa.
Sofa tables – These narrow console tables fit behind sofas. Look for ones with shelves or drawers. Use decoratively or as functional surface.
Side tables – While smaller than cocktail tables, compact side tables serve a similar accent purpose. Cluster or pair two together.
Poufs – Sturdy poufs upholstered in durable fabrics hold trays nicely. The soft shape adds flair.
Trunk boxes – Vintage-style trunk boxes offer coffee table styling with built-in storage. Top with trays if the lid is too short for drinks.
There are also mini tables specifically designed to complement sofas and chairs. The choices give flexibility if you want an alternate coffee or cocktail table solution.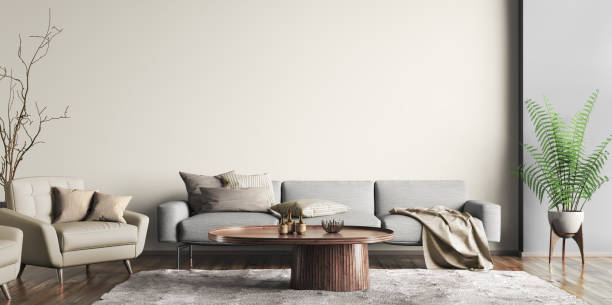 Decorating and Styling Your Cocktail or Coffee Table
Decorating your coffee or cocktail table is a fun way to express your personal style. Here are some styling tips:
Coffee Tables:
Layer complementary coffee table books for height and interest. Stack horizontally or vertically.
Use trays to corral small decorative objects like candles, vases, and frames. Choose natural wood, metal or lacquer trays.
Incorporate functional items like coasters, remotes, coffee table books, and game sets.
Display greenery like succulents or air plants in planters matching your decor style.
Float a textured throw blanket over part of the table to soften the surface.
Set out a small plant stand or stool if extra surface area is needed.
Cocktail Tables:
Use trays fitting the table's shape to hold drinks, vases, candles, and other decor.
Show off ornamental accessories like jewelry boxes, perfume trays, and decorative trinkets.
Rotate statues, bowls, or book piles to keep the look fresh.
Layer cocktail table books of varying heights, sizes, and colors.
Angle a picture frame or mirror against books to embellish the tablescape.
Prop up artwork or cherished photos using mini easels or stands.
Caring for and Maintaining Your Table
To keep your coffee or cocktail table looking its best for years to come, incorporate these care tips:
Use coasters under all glasses to avoid water marks. Try silicone, cork, or felt options.
Immediately clean up any spills using a damp cloth and mild cleaner if needed.
Attach felt pads to the bottom of the accessories to prevent scratches.
Avoid placing hot items directly on the tabletop which can cause damage.
Regularly dust tabletops using a microfiber duster or cloth.
Inspect for any warping or gouges needing repair. Apply wood filler as needed.
Polish wood tabletops with a wood polish every few months. Follow product instructions.
Vacuum dusty table bases like woven wicker or metal frames.
Arrange table placement to avoid direct sunlight which can cause fading.
Lift don't drag tables when moving to prevent scuffing floors or legs.
Limit what is placed on glass tabletops to avoid excessive weight and cracks.
Tighten any loose screws, nuts or bolts noticed over time.
Simple regular upkeep will maintain the beauty and functionality of your coffee and cocktail tables for many years of use.
Helpful Tips for Choosing the Right Table for You
Here are some final tips to help select the perfect coffee table or cocktail table:
Measure your space carefully including room dimensions, seating sizes, and existing furniture.
Map out where the table will go and how much functional space is needed.
Buy a measuring tape! Use it to envision table sizes right in the room before purchasing.
Don't overlook height – low coffee tables let you stretch legs.
Style matters – choose a table that fits your room's decor aesthetics.
Kick back and test tables in the store – make sure there's enough leg room when seated.
Examine quality and materials firsthand or ask detailed questions if buying online.
Think through your lifestyle needs – active families may need something more durable.
Comparison shop – you can likely find sales and deals if willing to hunt around.
If unsure, larger rectangular coffee tables offer the most versatility overall.
But don't overlook cocktail tables for tight spaces or as affordable accessories.
Take measurements with you when shopping to find properly scaled options.
Finally, go with your gut! Choose the shape, size, style and height that excites you.
Conclusion
While coffee tables and cocktail tables share some similarities, they have distinct differences when it comes to history, design, scale, functionality, and more.
Coffee tables are iconic living room staples that provide ample usable surface area for entertaining and lounging. Cocktail tables serve more as versatile decorative accent pieces ideal for small spaces and holding drinks.
When deciding between the two table varieties, carefully consider your room dimensions, seating arrangements, aesthetic style, functional needs, and lifestyle. Mixing both coffee tables and cocktail tables allows you to enjoy the benefits of each.
With some forethought on placement, practical features, and style, choosing the right cocktail or coffee table can elevate your living space. Just be sure to measure carefully and shop for quality constructed pieces built to last for years to come.
Both coffee tables and cocktail tables make fantastic focal points in any seating area. Hopefully, these tips give clarity when deciding which table suits your space and needs perfectly.