When it comes to embracing pastimes across the globe, camping is universally beloved due to its connection with our natural world. It's a unique way to slow down and appreciate the serenity and beauty offered only by the great outdoors. But even the most dedicated nature enthusiast knows that the beauty of the wilderness doesn't always translate to comfort. Whether you're setting up by a lakeshore, nestled in the woods, under the desert sun, or in a meadow sprinkled with wildflowers, being able to kick back in a camping chair is essential. The right chair can revolutionize your outdoor experience, turning an ordinary camping trip into a luxurious outdoor escapade. With this in mind, let's delve into the fascinating world of camping chairs, and how you can go about finding the one most suitable for your camping needs and preferences.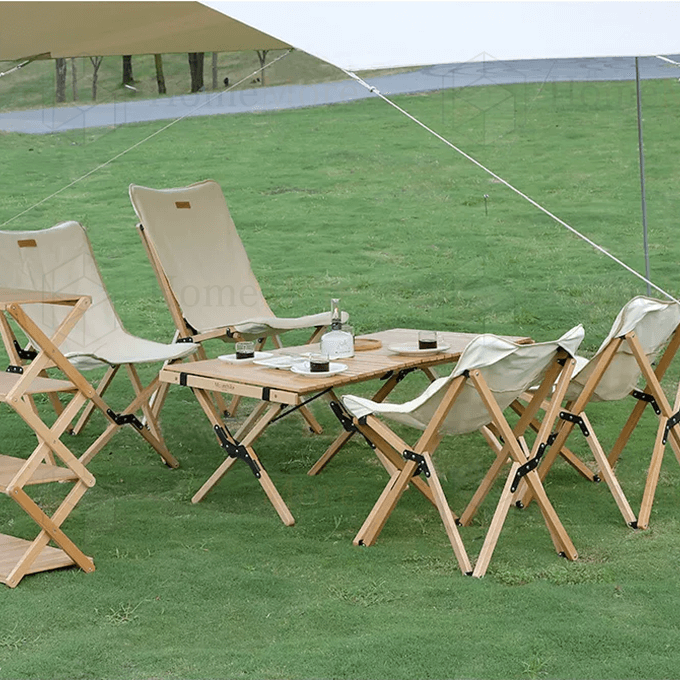 Types of Camping Chairs: An Overview
Camping chairs, though seemingly simple pieces of outdoor equipment, come with their own surprising variety and complexity. They span an astonishing range of designs, materials, sizes, and features that offer potential solutions to varying camping demands. The market is so diverse that every type of camper can find the style that uniquely fits their camping needs, whether it's portability, compactness, sturdiness, longevity, comfort, or a mesh of these requirements.
Zero Gravity Chairs: Ultimate Comfort for the Camper
Zero gravity chairs have transformed the realm of comfort for campers. A zero-gravity chair is designed to distribute your weight evenly, reducing pressure points and providing exceptional comfort. The design simulates a 'zero gravity' condition akin to floating in space, paving the way for ultimate relaxation. With a reclining feature that lets you adjust your seating position according to preference and often equipped with padded seating and headrests, it's perfect for those who love to lounge. Imagine unwinding in such a chair after a long trek, reading a book, or just taking in the splendid view!
Portable Camping Stool: Lightweight and Compact Selection
If easy transportation and storage are at the top of your priority list, a portable camping stool can be an invaluable choice. It's wonderfully easy to carry, making it perfect for scenarios where you're continually on the move – be it backpacking across terrains or shifting positions to find the perfect fishing spot. Despite their compact size, camping stools surprisingly offer a good deal of comfort. These attributes make them the preferred choice for backpackers, cyclists, and minimalists.
Folding Camping Chairs: For the Ease of Movement
Folding camping chairs, known for their ideal balance of comfort and functionality, are incredibly popular among campers. They offer a pleasant seating experience while posing no problems for storage or transport due to their folding design. Features like armrests, cup holders, and even cooler pockets lend folding camping chairs an enticing versatility that sets your camping experience apart. Easy to store and transport, folding chairs make it simple to bring a piece of comfort anywhere you go.
Camping Bench: An Ideal Option for Family Camping
When family or group camping is on the cards, camping benches prove to be a fantastic option. These benches are known for accommodating multiple people, making them ideal for those noisy, cheerful, communal gatherings around the campfire or the portable picnic table. Many models are designed to fold for better portability and easy storage. A camping bench can serve as a focal point for family gatherings, making meals, games, and conversation more enjoyable.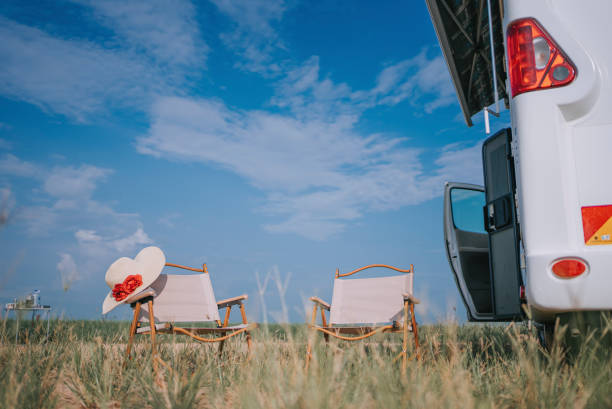 Reclining Camping Chairs: Relaxation at its Best
For those who love to rest in luxury even while camping, reclining camping chairs provide just the comfort you crave. Offering various degrees of reclining positions, these chairs are perfect whether you're kicking back with a novel or catching a quick nap under the shade. Their adjustable backrest and often included footrest allow you to make the most out of your downtime.
Inflatable Camping Chairs: Balancing Comfort and Portability
Inflatable camping chairs excel in offering a unique balance between unparalleled comfort and unmatched portability. Their blow-up design lets you adjust the firmness to your liking while their deflated state reduces them to a fraction of their size, making packing and transport a breeze. Crafted from durable materials that can withstand sharp objects and rough terrain, they offer a cozy haven after an adventurous day.
Hammock Chairs for Camping: Adding a Swing to Your Trip
A favorite among young campers and the young at heart, hammock chairs combine the joy of a swing with the functionality of a chair. These are designed to hang from a single overhead point, allowing a gentle swing that many find soothing. It's a perfect chair for reading, chilling, or simply swaying while admiring the great outdoors.
Backpack Chairs: Converting Your Bag to a Chair
Backpack chairs are revolutionary piece of camping gear that acts as storage and seating in one. They add a unique convenience to your gear, especially for campers who prefer to carry minimum equipment with the most use. Hiking, music festivals, or day trips can greatly benefit from these two-in-one designs.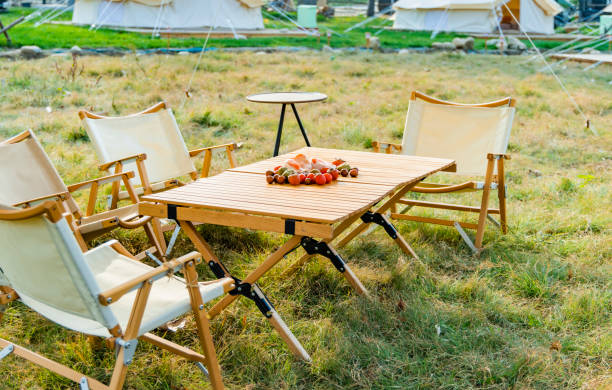 The Popularity of Camping Rocking Chairs
Nothing says comfort and relaxation like a rocking chair. The soothing back-and-forth motion provided by camping rocking chairs has earned them a well-deserved popularity among campers of all ages. Recent design innovations have made them portable and suitable for rough, uneven grounds of a campsite, adding further to their appeal.
Double Camping Chairs: Designed for Sharing
Double camping chairs, or loveseat-style chairs, are perfect for couples or friends who prefer to sit closely. Beyond just the wide seating, these chairs are known to have a high weight capacity and often boast features like shared coolers or cup holders.
Camping Director's Chair: Combining Functionality with Style
Camping director's chairs bring an element of style to your camping gear. Characterized by their straight-forward design, these chairs often come with an attached side table or cooler. Some versions also feature storage pockets, making them a practical yet elegant choice.
Choosing the Best Type of Chair Based on Camping Needs
Selecting the ideal camping chair depends highly on a blend of factors such as the type of camping you prefer, alongside individual preferences. For backpackers who must carry all their gear, lightweight, compact chairs are best. For those who camp near their vehicle or don't need to carry their gear, larger, more heavily padded chairs can offer more comfort.
Care and Maintenance Tips for Different Types of Camping Chairs
From collapsible stools to zero gravity chairs, every camping chair needs good care to extend its life and maintain efficacy. This often involves cleaning the chairs regularly, performing minor repairs whenever needed, and storing the chairs properly during off-season.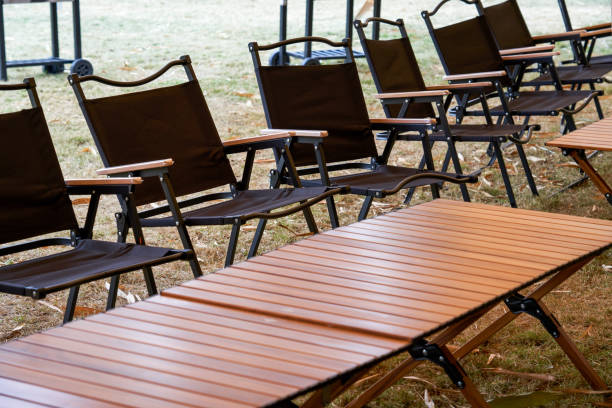 Conclusion: Making an Informed Decision on Types of Camping Chairs
Though camping chairs might not initially seem like a significant decision factor, having the right one by your side can intensify your pleasure and comfort during outdoor excursions. Each camping chair holds its unique charm and meets the varying demands of different outdoor situations. As you explore the world of camping chairs, you will appreciate the diversity and innovations they bring to your camping experience. Understanding the features and benefits of different camping chairs assists in making an informed choice and ensures you can enjoy every moment of your time outdoors. After all, what could be better than watching a breathtaking sunset over a serene lake from the comfort of your chosen camping chair?