Smart furniture tech with clever and aesthetically pleasing characteristics is creating a new trend in the furniture as well as the hospitality industry. Smart furniture transforms how we function in living spaces by incorporating IoT sensors, vocal style controllers, and wireless connectivity. 
Smart furniture technology can provide a unique selling point for enterprises, providing them with a major competitive advantage. Smart furniture is becoming popular as the need for home, workplace, and commercial area automation develops. This essay will go over the reasons why companies may opt to explore the hi-tech furniture market. 
What Is Smart Furniture Technology?
If anyone has ever considered smart furniture technology, they will know that it is a new trend in the furniture industry gaining popularity. Smart furniture is integrated with IoT sensors, voice-activated controls, and wireless charging. This type of new technology in furniture enhances the functionality of the furniture, making it easier to use and comfortable for people. 
Business owners should consider entering this niche market because the demand for smart homes is rising. People want furniture that's not only functional but also technologically advanced. By investing in smart furniture with technology, one's business can offer some amazing and unique products to customers that stand out from all the other competitors.
7 New Technologies Redefine Homes & Offices
Technology is one thing that is changing or evolving rapidly and has had a real impact on everyone's homes, workplaces, and how we perceive the world around us. We may now alter how we live with the arrival of new and inventive smart furniture. Let's look at how these technologies can benefit our daily lives, from wireless charging and fingerprint unlock to Bluetooth speakers and USB ports.
Charging With Wireless Technology: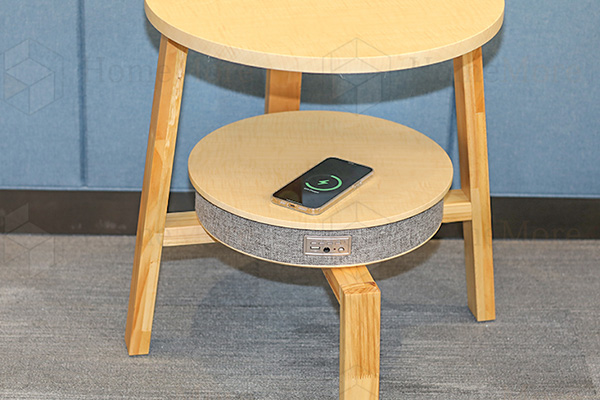 Wireless charging is one of the innovations changing how we all charge or power our electronics. A charging station eliminates the requirement for cables and connections by helping us to charge our gadgets just by putting them on such a charging pad. It is easy to use and very convenient for people working on their gadgets all day. 
This high tech table technology is gaining popularity because it gives ease to consumers and removes the need for tangled connections and connections. The bedside tables, living room tables, chairs, sofas, and other furniture are equipped with the wireless charging function, making wireless charging furniture the best option. 
Fingerprint Unlock: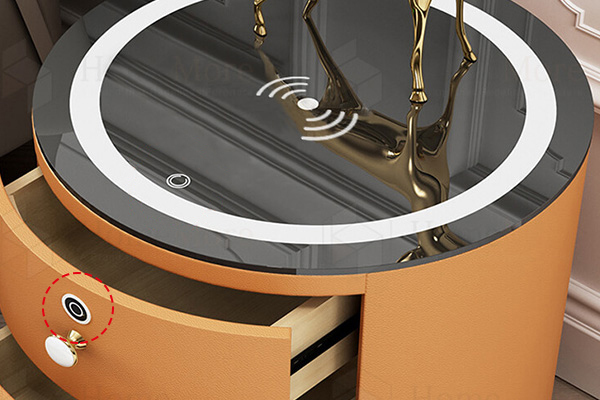 Fingerprint unlock is a new technology that is used for security and is equipped in smart furniture. It offers people convenience and peace of mind and gives them a sense of safety. Using biometric data, we can unlock and lock furniture like drawers and more. This technology is much more secure than traditional locks and keys because it reduces the risk of lost or stolen keys. 
As well as being more secure, fingerprint unlock is easier to use and safer, saving us time and hassle when entering and leaving our homes or offices. The fingerprint unlocks newtech furniture is the perfect solution for those people who value convenience and safety in their daily routines.
Built-In Bluetooth Speaker: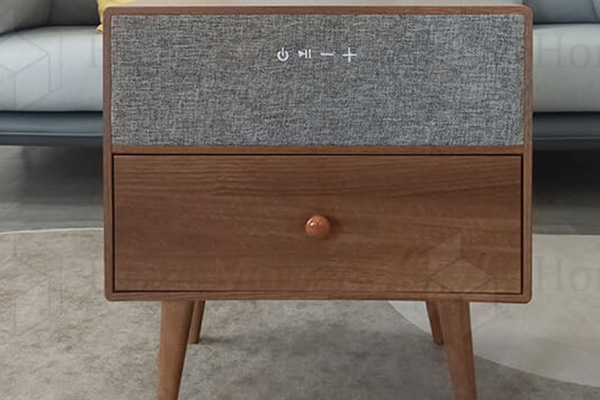 Have you heard of anything that combines music and technology? Built-in Bluetooth speakers are it. These built-in Bluetooth speakers offer high-quality sound without needing those bulky external speakers, and it is life-changing for all music lovers out there. 
Now just by using Bluetooth technology, everyone can easily connect their devices and enjoy music and podcasts from anywhere in the room. Smart furniture with built-in speakers is becoming increasingly popular because they offer comfort and save space. 
USB Connectors: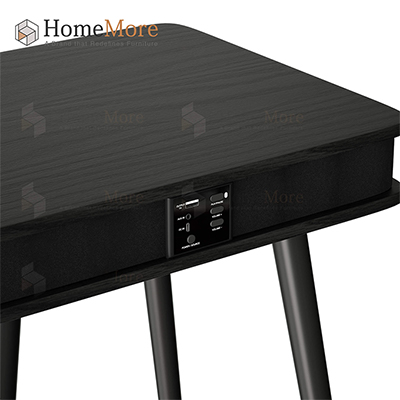 USB ports are also fitted into furnishing and workplace equipment. This technology is gaining popularity due to its convenience and ability to save time and effort. Various furniture types such as tables, beds, chairs, etc., are coming with different USB ports. 
Our devices can be charged quickly and conveniently using the USB connections of this smart bedside table. As a result, USB ports are seen as a perfect choice for those who wish to keep their homes or businesses organized and neat while simultaneously reaping the benefits of technological tools.
LED Lighting: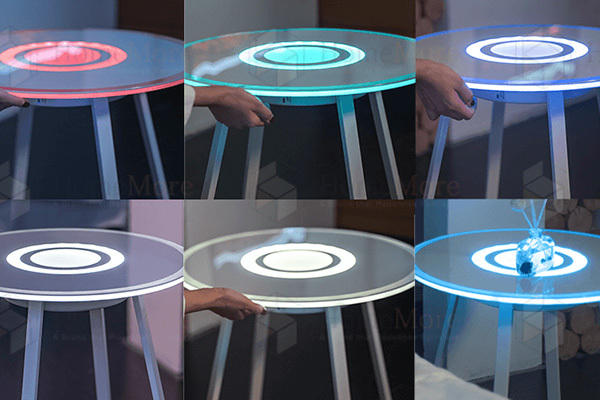 The traditional lighting of bulbs is something everyone has seen in homes, offices, and commercial spaces, but now there is a brand new upgrade for it: LED lighting. Presently, one can acquire smart furniture with LED lighting that is low-energy, very long-lasting, and has the quality to create bright and clean light. 
LED lighting uses less energy and emits less heat, making them perfect for usage in offices and homes. Smart furniture with LED lighting is also highly configurable, with various colors and effects. So, they are a great choice for people looking to build a fashionable and effective lighting system for work and living areas.
RGB Lighting: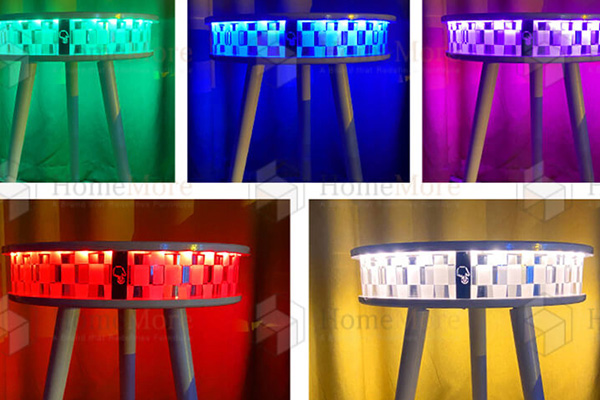 RGB lighting or illumination is another type of lighting available to us in some colors and patterns. RGB lighting smart furniture became increasingly common in recent generations because it allows individuals to create a joyful, creative, and stimulating atmosphere.
RGB lights are very appealing to the eyes, stunning, and excellent for altering the ambiance of a room based on one's emotions. RGB lighting smart furniture is great to be placed in homes, offices, entertainment events, and other commercial settings.
Sensor lighting: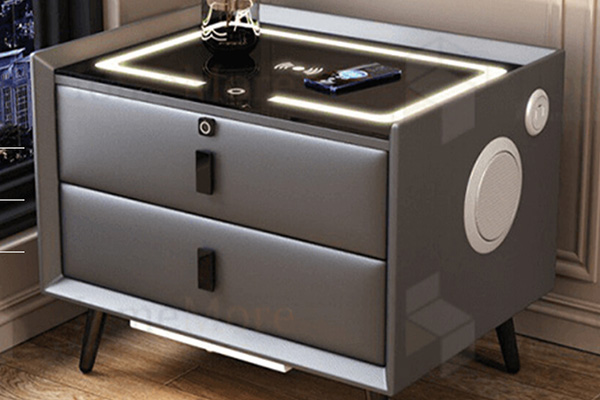 Have you ever heard of lights that can detect your moment and be automatically turned on and off? Smart furniture with sensory lighting can detect movement and automatically turn off when not in use, saving energy and creating a secure environment for us to travel in the dark.
Sensor lights are not only more useful, but they are also handier because they eliminate the necessity of manual switching. They are adaptable, with many patterns and styles to suit any environment. Sensor lighting furniture is famous and attracts many people. They are an excellent choice for those looking to establish smart and efficient elements for their living and working areas.
Profit From HomeMore's New Smart Furniture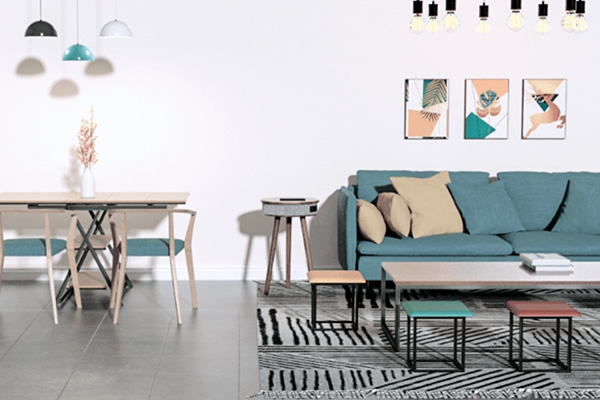 HomeMore's new smart furniture series have features created with innovation and functional pieces designed to fit your lifestyle. We offer different types of smart furniture that are equipped with several smart electronic functions. Our smart furniture product range includes bedside tables, regular side tables, double layer side tables, round tables, and many more. 
Our smart bedside tables have many amazing features to make your life easier. The smart table with wireless charging allows one to easily charge their phone or other electronic devices without cords and plugs. The table also features a Bluetooth speaker, so one can listen to music or take phone calls directly from the table.
The smart bedside tables also include a touch sensor light, perfect for those late-night reads, and a built-in drawer for convenient storage. The sleek and modern design of our tables means they will complement any decor. HomeMore also offers smart furniture customization options so that businesses can acquire unique furniture items that match their needs. 
Final Thoughts on Smart Furniture Technology
Smart furniture technology is the perfect example of the new wave of high tech furniture around us because it offers an innovative and convenient way to streamline our daily routines. HomeMore's furniture adds beauty and smartness to life with features like wireless charging, Bluetooth speakers, and sensor lights. These amazing pieces offer a modern and functional upgrade to traditional furniture.
Ordering smart furniture from reliable manufacturers will help businesses stay ahead of the market competitors. With their customizable options for businesses, clients can get smart furniture as per their requirements. To acquire smart furniture and get instant quotes, make sure to contact HomeMore without any second thought.