In modern homes, space is often a significant issue. Whenever there is an urge to introduce a new piece of furniture, worries about space arise. Modern homes need furniture with the most innovative features but must look simple and elegant. On the other hand, they must also not occupy much space. To fulfil all these requirements, furniture manufacturers came up with the revolutionizing idea of space saving.
Modern homes look the best with minimalistic pieces of furniture. This also helps maximize space and bring out an organized and sophisticated look. Keeping in mind the preferences of modern homeowners, furniture manufacturers design their pieces to be utilized for various purposes. For instance, a sofa convertible to a bed or a chair convertible to a small step ladder.
This brainstorming idea of making space saving furniture has given rise to transformable pieces of furniture like never seen before.
What Is Space Saving Furniture?
The sole purpose of introducing space saving foldable furniture is to bring the best space-related solutions for modern homes. The main aim of this type of furniture is to help maximize space and, at the same time, maintain aesthetics.
This type of modern furniture is considered space-saving because they are convertible and can be utilized for various purposes. Modern apartments have less space, and to eliminate these space-related worries, furniture-making has been revolutionized with convertible ideas.
Portability and functionality are the key features of space saving furniture. They are different from traditional furniture and differ mainly in their unique designs. Looking back to the historical eras such as the Victorian Era, which was very popular for gothic homes and Victorian furniture. The pieces of furniture were very space-occupying and served a single purpose. Their beauty is unquestionable, but when it came to space, they were not convenient.
Today, as the global population and the demand for homes is rising, people usually get to live in small homes or apartments. And if these small spaces are packed with furniture, it will destroy the aesthetics and occupy a lot of space. Therefore, the modern solution to space issues is choosing foldable furniture for small spaces.
Benefits of Space Saving Furniture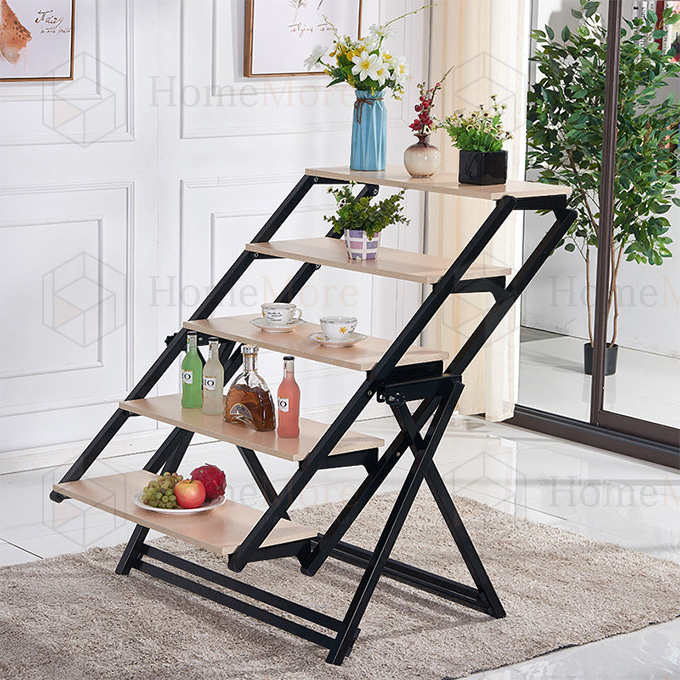 Introducing a new set of furniture at home gives rise to many worries about where it will fit and how much space it will occupy. Especially when the home is already loaded with furniture, and there is little space left, investing in furniture that helps maximize space is the only option. That is how the popularity of space saving grew among modern homeowners.
Numerous furniture manufacturers are switching to innovative technologies to deliver convertible and multi-purpose furniture. And the benefits of these emerging trends are being highly appreciated by customers. The significant benefits one can expect from them are:
Maximizes Space and Reduces Clutter
A home with small rooms and not spacious enough to fit in big pieces of furniture need foldable furniture for small spaces. That is the beauty of foldable or convertible furniture; they maximize space and, at the same time, look aesthetically pleasing. These types of furniture help make homes look organized and avoid the clutter that makes rooms look messy.
A small room can appear bigger if the right set of furniture is chosen, and that is why people prefer multi-functionality in their furniture. If a chair can be used as a tool, a ladder, and sometimes, even a shelf, it eliminates the need for excess furniture.
Promotes Functionality
Space saving teaches manufacturers and users how a single piece of furniture can serve various purposes. These unconventional designs are helping people realize how versatile modern furniture can be and how they can eliminate all space-related issues.
This multi-functionality of space-saving furniture also is helping manufacturers get rid of the hassles of producing too much furniture. And that is because one design is enough to serve various purposes.
Saves Money
Despite investing in several pieces of furniture,transformable pieces are helping people save money. With a piece of multi-functional furniture, companies can target different types of audiences at a time. For instance, by manufacturing a transformable table that can convert into a shelf, companies can target both the audience looking for tables and shelves. In return, the company has to manufacture a single design, thus cutting production costs.
Different Types of Space-Saving Furniture
The range of space-saving furniture is very impressive. From convertible to modular, wall-mounted to folding, liftable, portable to extendable, there are many options to choose from. The versatility of space saving furniture makes them more impressive.
Convertible Furniture
By using creative designs, furniture-making companies introduce the most stylish multi-functional pieces. Convertible furniture is an excellent example of innovative furniture manufacturing. They showcase the skills of utilizing small spaces and, at the same time, serving various purposes.
Convertible furniture is highly efficient, space-saving, and customizable. It gives the freedom to explore new designs and ideas to maximize space and deliver the best storage solutions to modern homes. The main advantage of owning convertible pieces of furniture is their multi-functionality and portability.
Modular Furniture
If there is any type of furniture that can entirely change the look of a home, office, or any venue, it is modular furniture. This type of furniture is different from other space-saving types because they are pre-made and can be assembled according to the setting of a room. Precisely, modular furniture includes separate pieces that are joined together to make different furniture pieces, for instance, box beds, cupboards, wall cabinets, and much more.
Modular furniture is highly customizable; the colors, designs, shapes, and sizes can be made according to the requirements. These customized pieces are turned into multi-functional and stylish pieces of furniture. Usually, modular furniture is used for storage solutions in kitchens, bedrooms, and living; they make the best space saving furniture.
Wall-Mounted Furniture
As the name suggests, wall-mounted furniture is the best storage solution that beautifies the living room, bedroom, or dining walls and is often used to display or store things. The most common type of wall-mounted furniture that is a part of every type of home are shelves and wall cabinets. The idea of wall-mounted furniture is to avoid the clutter on the floor and, instead, give the room a clean, organized, and sophisticated look.
Dual-Purpose Furniture
The best way to maximize space is to introduce dual-purpose or multi-purpose furniture. These pieces of furniture are very innovative; they are made to serve two or more purposes, thus reducing the requirement for introducing more and more furniture. Praised for being the best space saving furniture for small spaces, dual-purpose or multi-purpose furniture is the best storage solution.
The most common examples of dual-purpose furniture are transformable tables, transformable chairs, wall beds, convertible sofas, and many more. These multi-functional pieces of furniture bring the best space solution to small homes and make lifestyles more accessible and more organized.
Where Is Space Saving Furniture Used?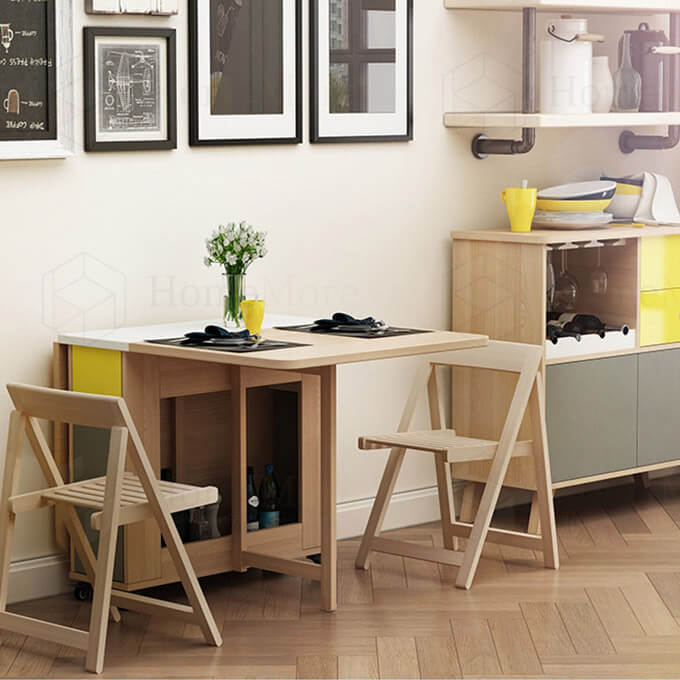 Space saving furniture cannot just serve a single purpose; they are built for various locations and uses. Space-saving solutions are available for every location, from outdoor locations like gardens and balconies to indoors like the bedroom, kitchen, or dining. (Learn: 10 Amazing Space Saving Furniture Ideas for Cozy Homes)
Space Saving Furniture for Living Room
The living room is the most attractive part of any modern home because it is full of positive vibes and pretty things. People love decorating their living rooms the most with sofas, lamps, creative shelves, and many other pieces of furniture that create a good impression. In most homes, living rooms are not as spacious as bedrooms and dining; therefore, the requirement is multi-functional furniture that does not occupy much space.
Space saving living room furniture makes the modern lifestyle even better. The modernized designs of tables, sofas, chairs, stools, selves, and cabinets are space-efficient and can be customized with a few electronic functions like built-in lights and Bluetooth features. These enhanced features make living room furniture more aesthetic and intelligent.
Space Saving Furniture for The Dining Room
Most modern apartments do not have a separate dining room space; in that case, convertible furniture is the best solution. A room saving furniture like convertible tables and chairs can fit into every small space and make it easier to convert a corner into a dining space.
Even if there is a space-related issue, every home deserves a separate dining space where the family and loved ones sit together to enjoy meals made with love. The most space-efficient solution is to introduce portable, foldable, and transformable pieces of furniture. A wall-mounted floating dining table that can be folded after use is the best option if the members in the home are fewer.
Another great choice is a convertible dining table that can be displayed as a shelf when not in use. Each design of transformable dining furniture is made for multi-functionality; they are not only trendy but also an ideal solution for building a functional dining area.
Space Saving Furniture for Bedrooms
Bedrooms are the coziest place on earth where peaceful nights of sleep and relaxation rule. A peaceful and cozy space, like a bedroom, deserves much attention when picking up the furniture. No matter if the space of the bedroom is small, the bed should always be cozy, and all thanks to modern space saving apartment furniture solutions, they are helping vanish space issues from small rooms.
People living in single-room apartments or small bedrooms always worry about the mess their bedrooms become because of the lack of proper space. However, this is no more an issue because modern space saving furniture is designed to maximize space and make every little home beautiful.
Modern bedroom solutions like foldable beds, storage beds, sofa cum beds, convertible bedside tables, bedside drawers with speakers, and many others are helping people eliminate their worries. These types of space-efficient furniture help organize bedroom space and are molded in a compact design to fit in the smallest spaces.
Space Saving Furniture for The Kitchen
Kitchens look most organized if they have cabinets to store utensils and separate pantry storage, and nothing is on display on the counter except the delicious meals served. Most modern kitchens suffer from space-related issues, and the ones with the least space serve as dining and living areas. In such cases, it is essential to select compact furniture that is multi-functional and can be used for storage.
The best way to maximize the kitchen space is to install a wall-mounted dining table that can either be folded after use or used as a shelf. Folding or convertible chairs go very well with such dining tables.
Space Saving Furniture for The Hallway
Hallways look the best when they are left spacious and have no obstruction. But, introducing spacious furniture pieces like cabinets, shoe racks and cabinets, or side tables and drawers can crowd the passage. To avoid this clutter, modern furniture manufacturers come up with the best space saving furniture solutions for hallways. They not only occupy the least space but also make the space look stylish.
Space Saving Furniture for Home Office
The pandemic has taught everyone in the 21st century to convert homes into a workspace and work efficiently in the comfort of home. The pandemic has left, but the new habit of working from home has given rise to many home offices. Not just homes and small apartments, but even home offices need space-saving solutions because they have limited space or a number of rooms.
A home office requires a peaceful aura and multi-functional furniture to resemble any conventional office scenario. The range of furniture that can be introduced in home offices includes foldable tables and chairs, foldable laptop tables, floating shelf tables, and many others.
Space Saving Furniture for Outdoor
Why just the interior? The exterior of modern homes needs equal attention. Outdoor spaces like balconies and small gardens can be beautified with space saving outdoor furniture like foldable long chairs and foldable tables. The small balconies and gardens can become a functional leisure area to enjoy peaceful sunsets with loved ones. At the same time, the aesthetics of these outdoor spaces can be enhanced. 
70% mechanized circuit board production: Achieving 200 units daily!
HomeMore: Offers Space Saving Furniture with Various Applications
For establishing a successful space-saving furniture business, it is essential to find a trustworthy supplier who promises quality and the most trendy products that are highly in demand. HomeMore is one of the leading suppliers of space saving storage solutions and has furniture for every location of a home.
Starting from intelligent furniture with electronic features to various space saving options, HomeMore aims to supply superior quality multi-functional furniture to global clients. The company designs exceptional and versatile furniture for bedrooms, living and dining, kitchen, hallway, home office, and various outdoor locations, for instance, space saving small balcony furniture.
HomeMore specializes in making the most stylish outdoor furniture, home office furniture, and modern home requirements, including storage shelves, coffee tables, convertible sofas, and much more. The company adapts the most advanced manufacturing technology to create unique storage solutions. HomeMore gives the freedom to its clients to customize their pieces the way they want. The company also has its very own range of aesthetic designs that are stylish and affordable.
There is one thing that HomeMore never compromises, and that is quality. With several overseas warehouses, the company never fails to perform quality checks at each manufacturing step. This is one of those significant reasons why HomeMore can deliver fault-less deliveries to overseas clients.
HomeMore never fails to pay attention to customer needs and deliver the most modern space saving solutions. The company values innovation, and so does sustainability; they successfully integrate modern technology into furniture designing and manufacturing and make the most durable. HomeMore offers the best business-oriented OEM and ODM solutions that can help every business accomplish its goals while, at the same time, worrying less about the tight budget.
Conclusion
Every modern homeowner in every corner of the world is facing space-related issues one day or the other. In this scenario, to succeed as a furniture business, it is essential to pay attention to space saving solutions. The global home and office furniture business is lucrative, but the competition is very high; hence, a business needs unique furniture ideas to survive in this competitive market.
A trustworthy furniture supplier specializing in space-saving solutions can help any business flourish. With various customization options and dependable quality of products, a business is bound to succeed and establish goodwill. Contact HomeMore if you seek a trustworthy modern furniture supplier who will remain your loyal partner manufacturer for years and never compromise on quality.