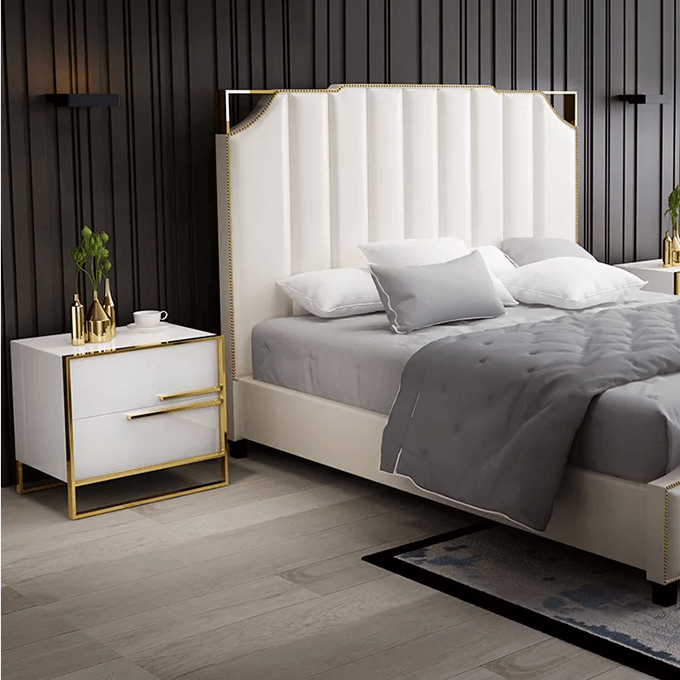 What Exactly is a Nightstand?
A nightstand, also known as a bedside table, is a small table typically placed next to the bed in a bedroom. The main purpose of a nightstand is to provide convenient access to items you may need while in bed, such as a glass of water, alarm clock, book, phone charger, lamp, and other personal items. Nightstands come in a wide variety of styles and sizes to suit different needs. Key features often include drawers for enclosed storage, open shelving, a solid or shelf surface top, and sometimes a cabinet with doors. Nightstands are available in many different materials like wood, metal, wicker, and more. You can choose a nightstand with features tailored to your needs, like charging ports, lighting, organizers, and storage. With many options to consider, it's important to choose the right nightstand height and size for your bedroom.
The History and Evolution of the Nightstand
The earliest forms of the nightstand date back to Egyptian times around 2000 BC when ornate boxes and chests stored items near beds. Later in history, movable freestanding French night tables became popular bedroom furniture.
The Industrial Revolution brought mass production of bedroom furniture including nightstands. Early nightstand designs focused on function over form, crafted simply from wood with minimal decoration. Over time with new manufacturing techniques, nightstand styles evolved in materials and design elements.
Mid-century modern nightstands featured sleek, minimalist lines. Contemporary nightstands of today come in a huge range of materials like metal, glass, acrylic, and more, often with built-in tech features and innovative storage solutions tailored to modern lifestyles.
The nightstand remains an ever-present staple in bedroom decor over the centuries, continuously evolving in form and function. Early nightstands stored essentials like lamps, books, spectacles, and brief candleholders. The top drawer was often fitted with a chamber pot. Indoor flush toilets eventually replaced this use. As electricity spread, nightstands started accommodating alarm clocks and radios.
The mid-20th century saw nightstands with phone compartments. Modern design focuses on charging capabilities and tech organization. Personal storage needs dictate the interior layout. Minimalist styles have concealed compartments. Transitional and modern nightstands incorporate open shelves and cubbies. Drawers integrate dividers, trays, and more. Nightstand sizes have fluctuated with bed proportions.
Today's nightstand dimensions vary widely from compact 15-inch square styles to sprawling floor-to-top models covering entire walls. The enduring nightstand adapts across eras to meet ever-changing needs in the bedroom.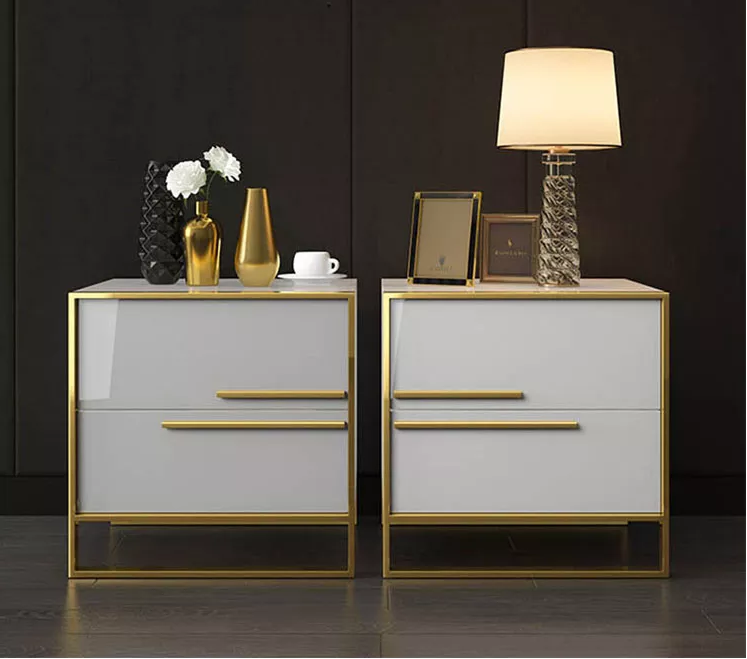 Common Uses and Purposes of a Nightstand
| | |
| --- | --- |
| Use | Purpose |
| Storing nighttime essentials | Allows you to easily see/reach alarm clock to check time or hit the snooze button |
| Holding alarm clock | Provides a dedicated spot to power phones, tablets, and e-readers overnight |
| Charging devices | Provides a surface to show off decorative trays, flowers, and ceramic pieces that reflect your style |
| Displaying photos | Personalizes your space and surroundings with cherished memories |
| Applying lotions | Keep lotions and creams in the top drawer for easy access when moisturizing before bed |
| Temporary placement | Gives a spot to set down the phone, watch, jewelry, and other personal items when getting into bed |
| Task lighting | Table lamps provide targeted light for middle-of-the-night reading or tasks without disturbing partner |
| Medication storage | Top drawer can hold prescription bottles for easy access when taking medicine before sleep |
| Holding snacks/drinks | Allows you to hydrate or have a snack conveniently without getting out of bed |
| Displaying decorative accents | The top drawer can hold prescription bottles for easy access when taking medicine before sleep |
| Extra seating | The surface can act as an impromptu seat for guests in the bedroom when needed |
Nightstand Styles – What Design Options Exist?
| | |
| --- | --- |
| Style | Description |
| Traditional | Ornate decorative details, carved accents, cabriole legs. Classic and elegant. |
| Transitional | Very streamlined and geometric, simple without decoration. Metal, glass, and acrylic materials. |
| Modern | Metal with rivets, pipes, iron and distressed wood, and exposed bulbs. |
| Rustic | Craftsman-style, unfinished/distressed wood, visible wood grain. |
| Coastal | Light and airy, whitewashed finish, resembles beach home decor. |
| Scandinavian | Light wood tones, minimalist, highly functional, understated. |
| Industrial | Sleek and minimalist, neutrals and metallics, a mix of materials. |
| Mid-century modern | 1960s retro aesthetic, clean lines, tapered legs, low profile. |
| Shaker | Simplistic style, emphasis on functionality over ornamentation. |
| French Provincial | Elaborate carved wood details, curved legs, painted/antiqued finish. |
| Contemporary | Metal with rivets, pipes, iron distressed wood, and exposed bulbs. |
| Cottage | Romantic flair, floral patterns, curved legs, painted finishes. |
Beyond the overall design, specific nightstand features can vary greatly. Some have open shelving while others have enclosed cabinet storage. The number and size of drawers also varies. Drawers can integrate organizers, charging ports, and other functional elements. Nightstands may stand on tall legs, or short feet, or have concealed base cabinets. Materials range from wood, metal, and glass to acrylic, rattan, and upholstered options. When selecting a nightstand style, consider your room's existing decor. Matching sets promote cohesion. For a more eclectic style, mix and match nightstands. Pay attention to proportions, drawer configuration, surface space, and visual weight to create a cohesive and well-balanced bedside environment tailored to your needs and tastes.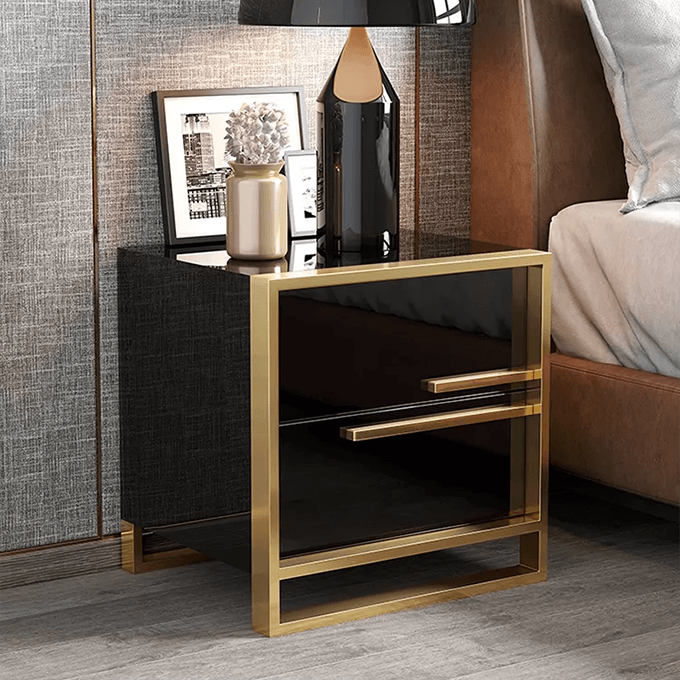 Standard Nightstand Dimensions and Sizes
Standard nightstand dimensions can vary between manufacturers, but they typically range from about 20 to 35 inches in height. The most common widths are between 16 to 30 inches. Standard depths range from 16 to 24 inches.
Drawer dimensions in a typical single nightstand are approximately:
Top drawer – 15 to 19 inches wide, 4 to 6 inches high.
Bottom drawer – 15 to 19 inches wide, 6 to 8 inches high.
Larger-scale nightstands may have up to four sizeable drawers. The leg span of nightstands ranges from 18 to 24 inches.
Some standard nightstand sizes include:
15 inch square small nightstand
18 to 21 inch wide x 16 inch deep nightstand
24 to 28 inch wide x 18 inch deep nightstand
36 inch wide x 18 inch deep extra wide nightstand
The standard size for a matching nightstand set is 26 inches high and 18 inches deep. Bedside chests or dressers can range from 30 to 38 inches high if you prefer a taller nightstand.
Consider the height of your bed and mattress when selecting a nightstand. Allow around 10 inches of clearance between the bed frame and nightstand. Measure the room's dimensions and layout to achieve symmetrical spacing on both sides. It's advisable to have at least 18 inches between nightstands for a walkway if space allows.
When purchasing, carefully check the nightstand's product dimensions and drawers to make sure they fit your needs. Slight size variations can affect accessibility. Knowing standard nightstand sizes will help narrow your choices.
What materials are best for nightstands?
The optimal nightstand material depends on your aesthetic tastes, needs and lifestyle. Here are some top materials to consider:
| | | |
| --- | --- | --- |
| Material | Pros | Cons |
| Wood | Beautiful natural look, warm and traditional feel | Prone to scratches, dents, water damage |
| Metal | Very durable, sleek modern aesthetic | Impersonal cold feel, prone to fingerprints |
| Glass | Allows display of contents, transparent | Fragile, shows smudges and fingerprints |
| Stone | Substantial solid feel, very durable | Extremely heavy, pricey |
| Leather | Luxurious look, ages well over time | Permeable, requires careful cleaning |
| Rattan | Natural texture, resilient material | Prone to stains, not very durable |
| Acrylic | Affordable, fun modern material | Can warp or fade over time |
| Composite wood | Affordable, customizable | Damages easily with moisture |
Evaluate your habits, placement, room style, and storage needs when choosing materials. Prioritize nightstands made from high-quality materials and construction for longevity.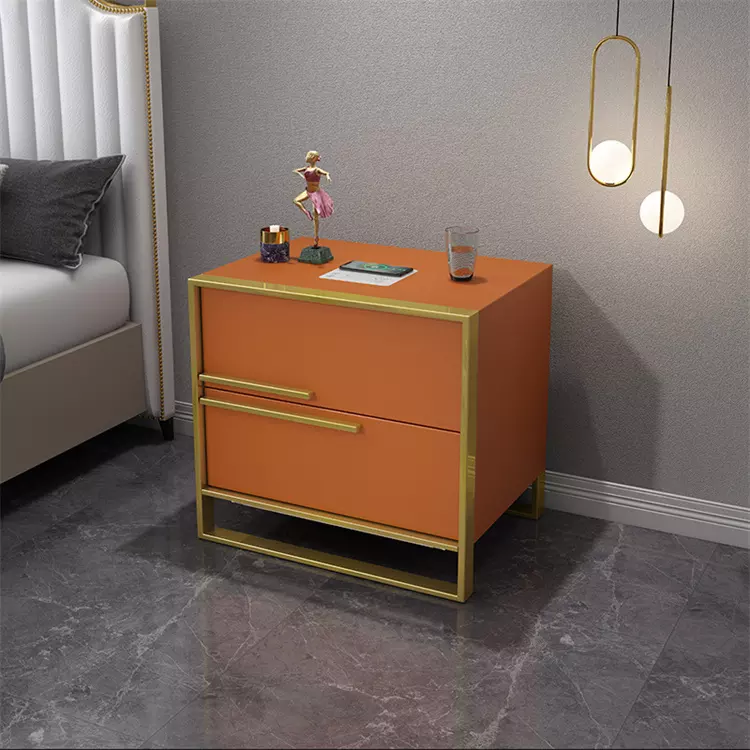 Key Nightstand Features and Components
Today's nightstands integrate clever features to maximize convenience and functionality. Popular high-tech features include:
Wireless charging docks to power phones and devices without cords.
Touch intelligent LED lighting that provides ambient glows or task lighting.
USB charging ports for plugging in devices directly.
Motion-sensing lights that illuminate automatically when you approach.
Bluetooth speakers to stream music or podcasts wirelessly.
Fingerprint locks for securing private storage drawers.
Drawers and interior storage like shelves and cubbies keep essentials neatly organized.
Digital alarm clocks allow easy viewing of the time.
Lift-tops reveal hidden storage compartments when opened.
Drop-front drawers have a lowered lip for easy access to contents.
Cushioned jewelry trays protect delicate items.
Mirrored trays for dressing accessories like watches and rings.
Sliding baskets that pull out make items in the back accessible.
The right combination of convenient tech features and purposeful design elements can make your nightstand a personalized bedside assistant.
Things to Consider When Buying a Nightstand
Purchasing a nightstand requires some careful consideration to choose the right size, style, and features to suit your space and needs. Here are some important things to consider:
Space – Measure your room and bed to ensure proper nightstand proportions. Allow adequate space for opening drawers and entryways.
Style – Match the nightstand style to your existing decor, whether modern, traditional, rustic, etc.
Materials – Consider durability, look, and texture. Softer woods dent easier than hardwoods for example.
Construction – Check for solid wood over particle board. Dovetail joints add strength.
Scale & Height – Make sure the nightstand height and width fit well next to your bed.
Storage Needs – Assess if open or closed storage will work better for your items.
Interior Storage – Look for adjustable shelves, cord cutouts, lining, and organizational elements.
Top Surface – Determine if you need a spacious flat surface or if shelves work.
Drawer Size & Configuration – Measure drawers and test sliding mechanisms. See if the interior space fits your items.
Hardware – Details like glides, pulls and lighting should have quality construction.
Special Features – Decide if built-ins like charging ports, lighting, or mirrors are needed.
Assembly Required – Are you able to assemble it yourself or will you need help?
Price – Set a budget and stick to it. With nightstands, you often get what you pay for.
Warranty – A longer warranty period provides more protection.
Reviews – Read customer reviews to learn about real-world performance and durability.
By carefully evaluating these factors, you can select nightstands tailored to your personal needs and living space. Prioritize the features that will enhance your everyday experience.
Style Tips for Decorating with Nightstands
Nightstands present excellent decorative opportunities in the bedroom. Here are some style tips for decorating nightstands:
Dress up bare nightstand tops with table lamps, books, flowers, and layered decorative trays.
Incorporate your personal style with photos, travel trinkets, and favorite ceramic pieces.
Try fresh bedside vignettes monthly – use seasons and holidays as inspiration.
Limit top decor to 1-3 carefully curated items for clutter-free simplicity.
Use symmetrical but non-identical decor on each nightstand to create cohesive balance.
Select lamps and trays that complement the nightstand's colors and materials.
Consider wall-mount lighting above nightstands to save surface space.
Anchor the nightstand to the wall color with art or decorative mirrors above.
Introduce your nightstand's finishes elsewhere like brass pulls on dressers.
Organize drawers with containers and trays to easily switch out decor seasonally.
Stage a stack of coffee table books and reading material.
Try a small plant like a succulent or air plant for organic texture.
Display functional items like clocks and glasses attractively.
Keep the top 12 inches clutter-free for day-to-day utility.
With creativity and personal expression, nightstands can elevate your whole bedroom's style. Change up the decor seasonally to keep your space feeling fresh.
Clever Nightstand Storage Solutions and Ideas
Nightstands provide invaluable storage space, but their limited real estate can easily get cluttered. Implement these savvy solutions to keep your nightstand organized:
Use trays and bins to corral small items like chapstick, headphones, and jewelry.
Try under-bed storage on wheels to roll out for overflow or seasonal items.
Install multi-level hanging shelves inside the nightstand for glasses, books, and devices.
Use a desk organizer or divider set inside the drawer to separate supplies.
Add a charging station or power strip to minimize cord clutter.
Use over-the-door clear pockets to store items you use less frequently.
Opt for a nightstand with a flip-top compartment for secret storage.
Add a multi-hook rack inside the door for bags, hats, and robes.
Incorporate a mattress storage platform for extra hidden storage underneath.
Designate one drawer for tech and electronics to keep cords untangled.
Use hanging shelves or wall-mounted racks behind the nightstand for display.
Add drawer liner or cut-to-fit foam inserts to prevent sliding and damage.
Attach a multi-use magnetic dry erase board for notes, lists, and photos.
With some clever solutions, you can overcome nightstand storage challenges. Look for ways to expand and better utilize all available space around and inside.
Nightstand Alternatives for Small Spaces
For those dealing with tight quarters, some space-saving alternatives to traditional nightstands include:
Wall-mounted floating shelves: Instant bedside storage attached right to the wall at the ideal height.
Overbed shelves: Shelving units that mount to the bed frame or wall above the mattress.
Bedside shelf inserts: Shelving units that slide between the mattress and box spring.
Multi-level stackable crates: Crates stacked and secured provide cubby storage.
Ladder shelves: Lean a ladder against the wall and add shelves across the rungs.
Suspended cabinets: Mini versions hung from the ceiling beside the bed.
Wall-mounted utility hooks: Install hooks for hanging bags, hats and headphones.
Bed risers with storage: Lifting the bed provides storage space underneath.
Underbed boxes on wheels: Clear plastic bins slide under the bed.
Headboard shelving: Built-in shelves to replace a headboard.
Microwave carts: Carts with wheeled shelves can roll anywhere.
End-of-bed benches: Foot-of-bed benches with lift-top storage inside.
Planter box ledges: Windowsill planters that hook onto walls.
With some creativity, you can maximize every inch of space to create nightstand functions even in the smallest bedroom. Take advantage of vertical storage opportunities and compact furnishings that serve multiple needs.
Nightstand vs Bedside Table: What's the Difference?
Nightstand and bedside table are terms used interchangeably to refer to the small table or cabinet placed beside the bed. There is no major difference between a nightstand and a bedside table in design or function. Subtle distinctions include:
A nightstand implies it is used mainly at night while a bedside table may be used anytime.
A nightstand often refers to having drawers while a bedside table could have open shelves.
A nightstand evokes classic bedroom furniture while a bedside table has a more casual connotation.
A bedside table may be improvised from a stool or stack of crates whereas a nightstand is store-bought furniture.
Some prefer using a bedside table for symmetry if only one side of the bed has a table.
While nuances exist, nightstand and bedside table fundamentally refer to the same piece of versatile, compact bedroom furniture with surface space to hold bedtime and morning essentials. When shopping, browsing under both terms will yield the most options. Either can suit your space depending on your style sensibilities. Choose what resonates most for your personal bedside haven.
Nightstand vs Dresser: What's the difference?
Nightstands and dressers are both essential bedroom furniture pieces, but they serve different purposes. Here are some key differences:
Location – A nightstand sits right next to the bed for bedside access. A dresser is typically placed against the wall across from the bed.
Size – Nightstands have a small footprint with 1-2 drawers. Dressers are larger furniture pieces with 4+ bigger drawers.
Height – Nightstands range 24-30 inches tall. Dressers are taller around 30-34 inches high.
Depth – Nightstands are shallow around 18 inches deep. Dressers are deeper around 20-22 inches.
Purpose – Nightstands hold bedtime essentials and personal items. Dressers store bulkier clothing, linens and accessories.
Use frequency – Nightstand drawers tend to be accessed daily. Dresser drawers less frequently for seasonal clothing storage.
Top surface – Nightstands offer a usable top surface. The dresser top displays decorative accents.
Mobility – Nightstands are lightweight for moving. Dressers are heavy and stationary.
While both provide valuable storage, the nightstand's petite size, portability and proximity to the bed adapt it uniquely for bedside needs. Dressers serve as a full-room wardrobe for clothing and linens. Depending on your space and storage requirements, one piece may suffice over the other. Many bedrooms incorporate both dressers and nightstands to get the benefits of each furniture type.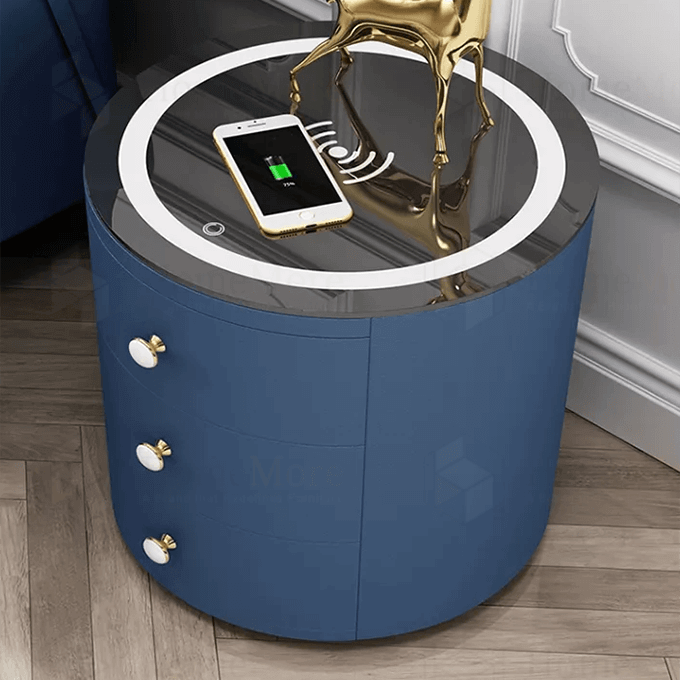 New Trend: Homemore Smart Function Nightstand
Technology is being integrated into home furnishings, as seen in the Homemore Smart Bedside Table. This innovative nightstand is packed with useful features:
Wireless Charging – Charges phones and devices without wires.
Bluetooth Speakers – Stream music, white noise or alarm tones.
Voice Control – Use Alexa built-in to control the lamp, alarm clock, and other smart features.
Fast USB Charging – Quickly charge devices with the USB ports.
LED Ambient Lighting – Relaxing glows with customized colors.
Digital Clock – Displays time, date and temperature.
Secured Storage Drawer – Keep valuables safe using the fingerprint lock.
Hidden Storage Compartment – Convenient storage under the lift-top.
Solid Wood Construction – Available in walnut or oak wood finishes.
This smart nightstand consolidates bedside necessities into one sleek hub. The integrated technology, like wireless charging, maximizes convenience and streamlines your daily routine. With a minimalist form, it complements any modern aesthetic. Smart furniture is the future, and this nightstand provides a glimpse of the possibilities for tech-savvy living.
Smart nightstands like these maximize convenience through intelligent design and integrated technology. With the popularity of smart homes on the rise, you can expect more of these innovative furniture pieces to enter the marketplace. Though still considered a luxury, their capabilities will likely become standard in future nightstand models.
As a brand that represents high quality and impeccable, Homemore adopt the latest design trends in creating our smart furniture, making them appealing to the global market. Check the detail of our smart function beside tables now!
Conclusion
The nightstand remains an essential bedroom staple that has evolved across time to meet our changing needs in the modern age. With today's options ranging widely in size, style and integrated tech capabilities, you can find the perfect design tailored to your habits and space. Measure carefully, choose quality construction and materials, and incorporate storage and decorating ideas that suit your lifestyle. The right nightstand provides a hub for personal organization and a canvas for self-expression that sets the tone for bedroom comfort. Let this intimate furniture piece reflect your needs and personality.