Decorating a narrow living room dining room combo may seem challenging, but with a little imagination, careful consideration, and purposeful design strategies, you can make the most out of your living and dining room combo. From the layout to the colors and the furniture size, you can create a beautiful, practical, and welcoming dining room table living room dining room combo that serves dual purposes without compromising on style and comfort.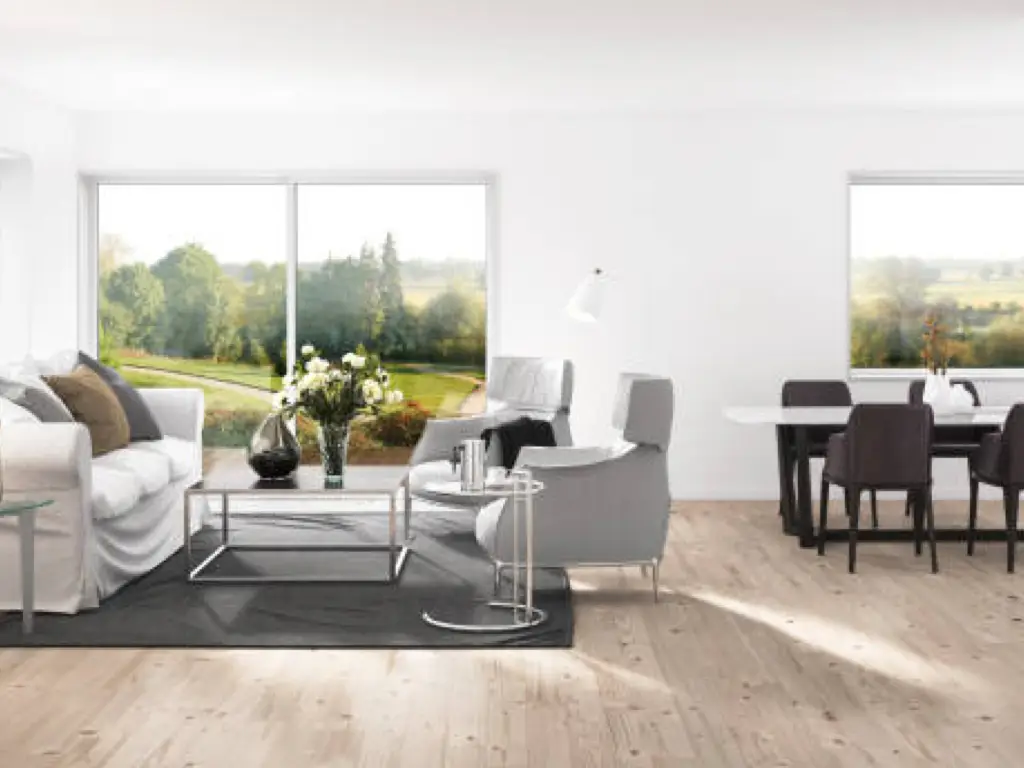 What are the Benefits of Having a Narrow Living and Dining Room Combo?
Having a narrow living room dining room combo allows for seamless flow and convenience. It maximizes space utilization, creates a cohesive and integrated look, and encourages social interaction during meals or gatherings. Additionally, it can provide a cozy and intimate atmosphere for entertaining guests with various layout ideas.
Understanding the Importance of Layout in a Narrow Living Room Dining Room Combo
The layout forms the foundation of any room's design, and that's especially true when decorating a narrow living room dining room combo. A well-planned layout can transform a narrow, linear room by merging the functional dining room and the cozy living room without making the space feel overcrowded or cramped. Adding shelving can be a great way to maximize storage and display options in this type of space.
When planning your layout, start with the largest pieces of furniture. The seating and dining table should be your priority. Think of them as the anchor points around which other elements will revolve. Place them in a way that promotes easy movement and encourages conversation.
Strategies for Creating Distinct Zones in Your Narrow Dining Room Living Room Combo
In a narrow living room dining room combo, carving out distinct zones for eating and relaxing can help manage the space better. Creating a sense of division between your living and dining spaces enhances functionality and makes the small space seem larger.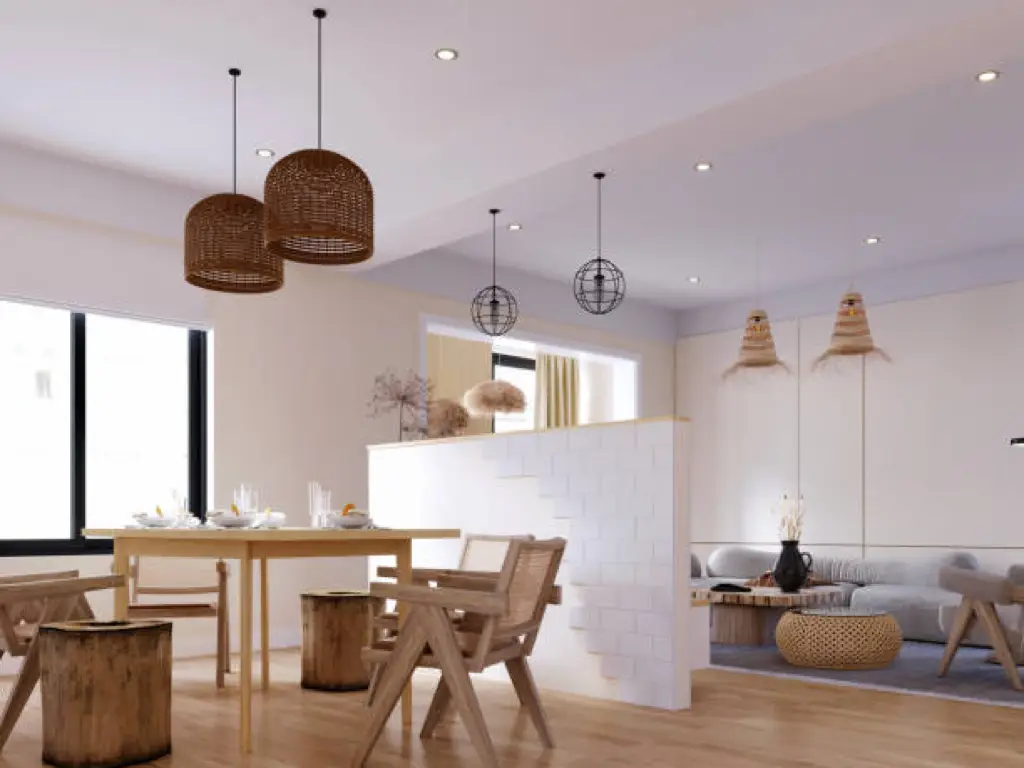 Utilizing Multi-Use Furniture for Efficient Zone Definition
Multi-use furniture can function in multiple ways, giving you more flexibility in your narrow living room dining room combo layout. Consider using an ottoman that also serves as a storage unit or a coffee table, or a dining bench that doubles as a seating space when you are not eating. Another option is to incorporate side tables that can provide additional surface area for placing items or serving as decorative accents.
Color and Textures: Essential Elements to Define and Distinguish Zones
In your living and dining room combo, using color can play a vital role in defining different zones. Consider using different, yet complementary, color schemes for the living and dining areas. Similarly, different textures through cushions, throws, and rugs can add depth and interest to each zone in your narrow living room dining room combo. By carefully selecting a color palette, you can create a cohesive and visually appealing space that enhances the overall design.
Effective Use of Lighting to Highlight and Separate Zones
The right lighting can help separate zones in your narrow living room dining room combo. A beautiful chandelier above the dining table can make the dining space a focal point, while softer lighting options like table lamps or floor lamps can create a cozy and inviting atmosphere in the living area.
Exploring the Best Furniture Options for Your Narrow Living Room Dining Room Combo
Selecting the right furniture for your living room dining room combo is essential for maintaining a spacious yet comfortable feel in the space. Embracing minimalism can help achieve this balance, as it focuses on simplicity and functionality while reducing clutter and unnecessary items.
The Right Size and Design of Armchairs
When working with a small living room dining room combo layout, consider armchairs that have a smaller footprint. Armchairs with a sleek design and open arms can make your space look larger while still providing the best way for comfortable seating.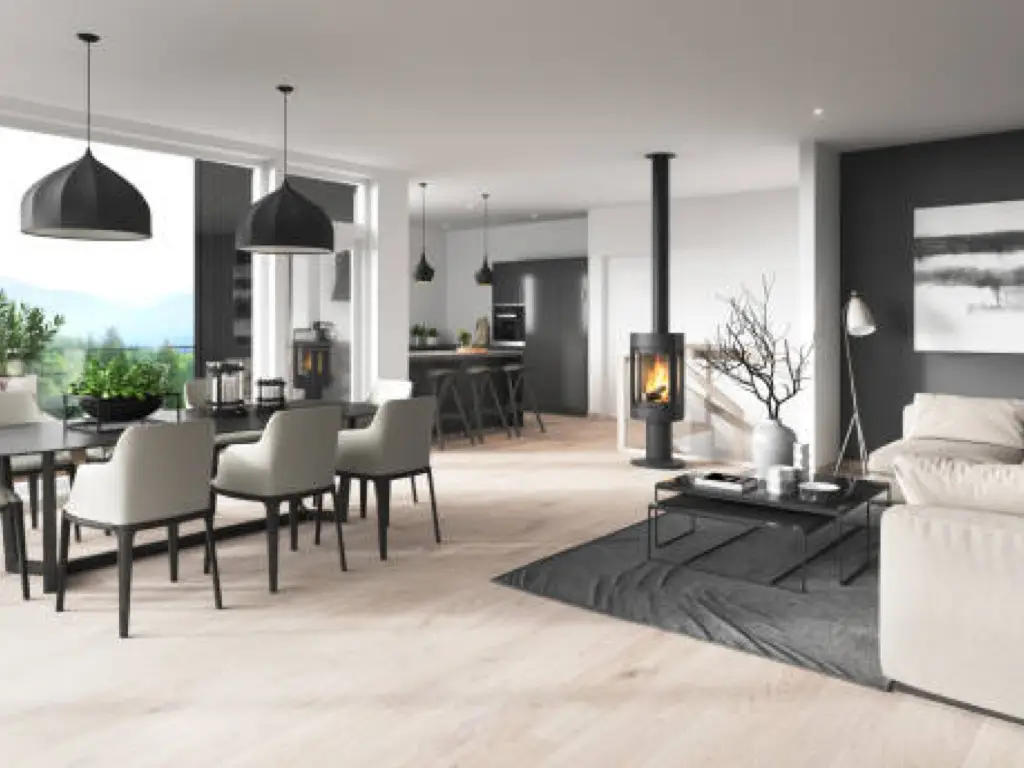 Multi-functional Tables and Storage Units
In a small living room dining room combo, space-saving tables and storage units can work wonders. Consider a dining table with leaves that can be extended for a large gathering or folded up for everyday use. Similarly, storage units and shelves can be strategically used as room dividers to separate your living and dining areas. These versatile furniture pieces can also serve as statement pieces, adding style and personality to your space.
A Well-selected Coffee Table
The coffee table often serves as the heart of a living area – it's where we dine, meet, and sometimes even work. But in a small living room dining room combo, it's crucial to choose your coffee table wisely to avoid cluttering the space. A well-selected coffee table should be proportionate to the surrounding seating and should be just the right height—a low-profile coffee table would visually consume less space. Choose a coffee table with a minimalist design, paired with extra storage capabilities to keep things organized. Some tables offer storage underneath, while others have a lifting top that provides hidden storage, maintaining a clean, clutter-free look. You could also consider a practical and stylish ottoman that doubles as a coffee table. This additional seating can be very effective in a narrow living room dining room combo.
Wall-Mounted and Vertical Furniture
When floor space is scarce in a small living room-dining room combo, it's time to think vertically. Wall-mounted storage units and shelving can house books, display decor, or even serve as a spot for small indoor plants. Floating shelves and wall-mounted cabinets make the most of your walls and free up essential floor space. Similarly, a tall, narrow bookcase can provide a ton of storage without taking up too much floor space. In the dining area, consider a wall-mounted drop-leaf table that can be folded away when not in use. This can make the space multifunctional – doubling up as a dining area when the table is unfolded, and as a spacious living room when it's folded away. Utilizing vertical and wall-mounted furniture is key in optimizing floor space in a narrow living room dining room combo with a dining room layout.
Essential Decorating Tips for Your Narrow Living Room Dining Room Combo
Decorating a narrow living room dining room combo may require some creativity, but the result can be a space that's welcoming and stylish.
Expanding the Perceived Space with Mirrors
Mirrors are a decorator's secret weapon in a narrow living room dining room combo. When strategically placed, they reflect light and create an illusion of more space, making your room appear larger than it is.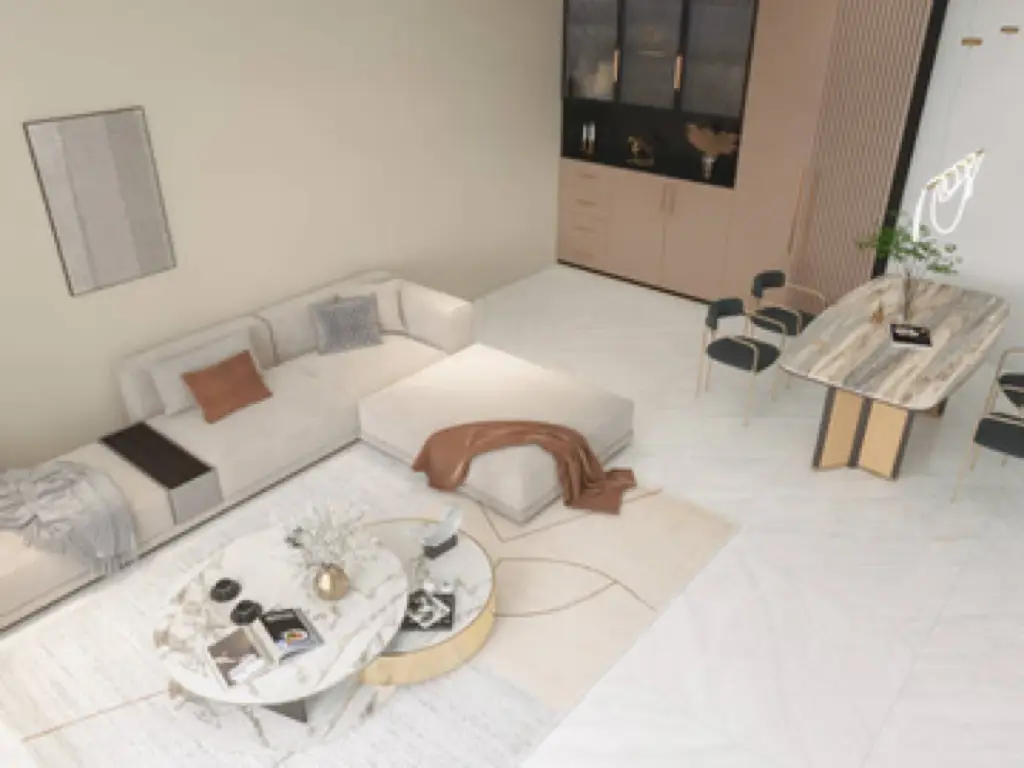 Accentuating Your Combo Space Layout with Rugs
Rugs not only add texture and warmth to your combo space but also serve as a visual cue for separating different areas. In a narrow living room dining room combo, a rug can anchor the dining table and chairs, giving them their distinct area. An area rug can be the perfect addition to defining the dining space and creating a cozy atmosphere with a lot of space.
Creating a Focal Point with Chandelier
A chandelier not only adds a touch of sophistication but also plays a significant role in creating a focal point and defining the dining area in your narrow white living room dining room combo. Choose one that aligns with the style and scale of your room, including pendant lights, to create a harmonious look.
Enhancing Your Combo Room Decor with Indoor Plants
Indoor plants can bring life and color to your narrow living room dining room combo, making the space feel fresh and vibrant. They can also serve as natural dividers between the dining and living zones.
| | |
| --- | --- |
| Snake Plant | Requires minimal light and care, perfect for creating a tall, visual interest. |
| Fiddle Leaf Fig | Offers large, sculptural leaves to bring in a design aesthetic. |
| English Ivy | An ideal trailing plant for shelves or mantels. |
| Rubber Plant | With its shiny, dark-green leaves, it can be a beautiful addition. |
| Spider Plant | It's resilient and perfect for hanging baskets or as a tabletop feature. |
Budget-friendly Ways to Decorate Your Narrow Living Room Dining Room Combo
Decorating a narrow living room dining room combo doesn't have to break the bank. With some creativity and planning, you can create a beautiful and functional space on a budget.
Finding Affordable yet Stylish Furniture Pieces
In a small living room dining room combo, choosing the right furniture is crucial not just for the look but also for the functionality of the space. Thankfully, finding pieces that are both affordable and stylish is not as challenging as it may seem.
When it comes to choosing a dining table, style and versatility are key. Opt for a table that offers transformable shelf and drop leaf folding dining table sets, allowing you to adjust the size based on your needs. This flexibility is invaluable in a combo room where space is a premium. Click here and check out our range of affordable dining tables that cater to different sizes and styles.
DIY Decor Ideas
DIY decor ideas can not only save you money but also add a personalized touch to your space. From creating your own art pieces to refurbishing old furniture or making your own pillow covers, the possibilities are endless.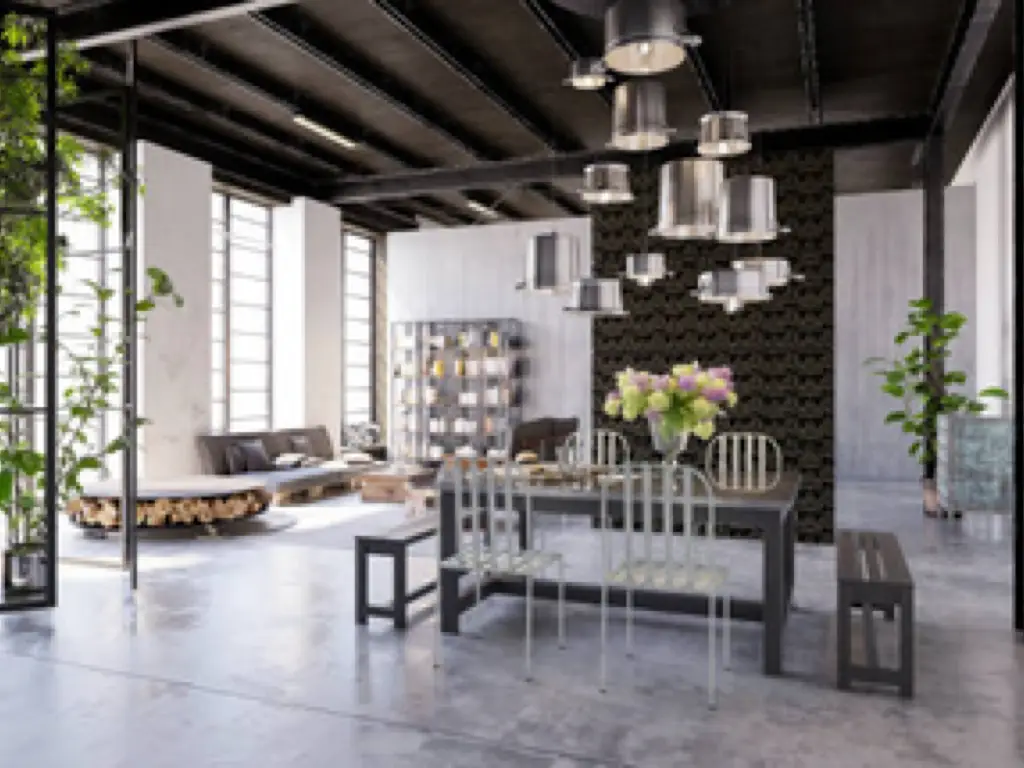 Leveraging Virtual Tools and Apps for Decorating Your Small Living Room Dining Room Combo
Several virtual tools and apps available online can help you visualize your space and make better design decisions. From playing around with different layouts to seeing how different furniture pieces or colors work together, these tools can be immensely helpful in planning your decor.
| | |
| --- | --- |
| Houzz App | Provides interior design ideas and a tool to visualize furniture in your room. |
| IKEA Place | Use AR to position IKEA products virtually in your space. |
| SketchUp | Allows the creation of 3D models of your room for realistic views. |
| Roomstyler 3D Home Planner | A browser-based tool to create 3D room designs. |
| Pinterest | Gives access to a vast array of inspiring interior decorating images. |
Conclusion
With appropriate planning and clever design strategies, you can create a cohesive and aesthetically pleasing narrow living room dining room combo that is equal parts functional and welcoming. Through strategic placement of furniture, effective use of colors and lighting, and thoughtful inclusion of decor elements, you can overcome the challenges posed by a narrow space and create an abode you are proud to call home.