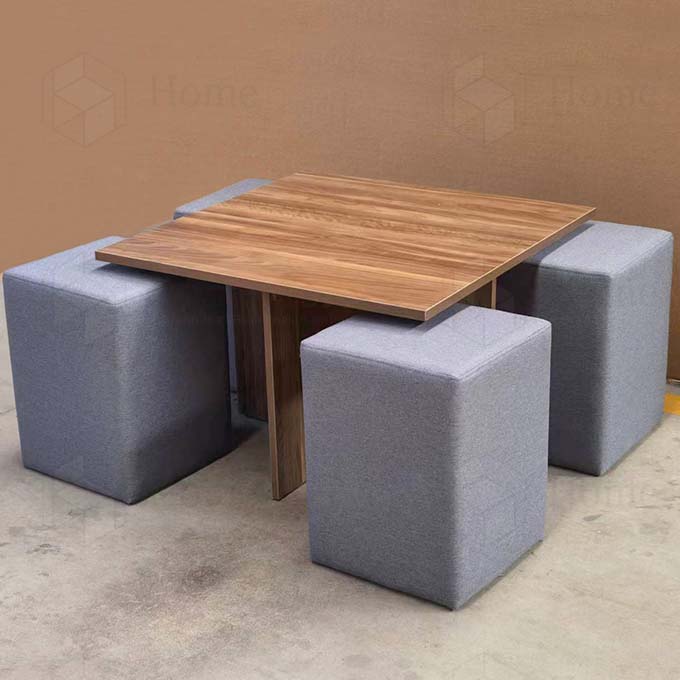 Benefits of Using Ottoman as Coffee Table
One of the main advantages of using an ottoman as a coffee table is gaining extra seating space. The padded top provides a comfortable spot for guests to sit or prop up their feet. This is perfect for accommodating more people in your living room when entertaining. It's also useful if you need overflow seating while watching a movie or spending time together as a family.
Another benefit is the storage space many ottomans provide. Look for options with a lift-top lid or drawers built into the base. This hidden storage can be used to tuck away remotes, coasters, blankets and other living room clutter. Having a storage ottoman makes it easy to keep everything tidy but still close at hand when you need it.
Using an actual ottoman as a coffee table is also great for small spaces. It provides surface area without taking up as much square footage as a traditional coffee table. The compact shape can even double as an end table in a pinch. Ottoman coffee tables are available in many shapes like rectangles, squares and circles so you can tailor the look to fit your room.
In addition to maximizing space, ottoman coffee tables provide style flexibility too. From tufted leather to sleek lacquer and bold patterns, ottomans come in endless options to match any decor. Changing up the ottoman is an easy way to refresh your living room look. You can even DIY reupholster a thrifted ottoman to create a custom coffee table.
Ottomans also tend to have a lower profile than standard coffee tables, allowing you to see over them more easily. This gives a lighter, more open feel and makes it simpler to reach items on the other side like remote controls. The low-slung silhouette works well in rooms with lower sofas.
Factors to Consider When Choosing an Ottoman Coffee Table
When selecting an ottoman to use as a coffee table, there are a few important factors to consider.
| | |
| --- | --- |
| Factor | Description |
| Size | Too tall blocks views and reach too short limits leg room. Aim for 16-18 inches high. |
| Height | Square maximizes surface area, and round suits the center of curved sofas. Many creative shapes are available. |
| Shape | Leather resists stains but can scratch. The fabric allows more color/pattern options. Assess durability. |
| Material | Test the ottoman in store for adequate support and softness as a seat. |
| Comfort | Inspect seams, stitching, and legs for quality and durability. |
| Construction | Choose an ottoman that complements the room's color scheme, patterns, and textures. |
| Decor | Choose an ottoman that complements room's color scheme, patterns, and textures. |
| Reviews | Read reviews to assess real-world quality and longevity. |
Ottomans vs. Traditional Coffee Tables: Key Differences
| | | |
| --- | --- | --- |
| Feature | Ottoman | Traditional Coffee Table |
| Function | Multipurpose seating and surface area | Flat surface only, some offer storage |
| Shape | Lower, rounder, softer lines | Rectangular, square, rigid lines |
| Height | Lower profile, open sightlines | Taller, more obstructed views |
| Placement | Can be moved around | Stationary |
| Materials | Upholstery, lighter weight | Wood, glass, heavier stationary |
| Style | Coordinates as accent | Matches furniture sets |
| Cost | Less expensive | Wood tables more expensive |
| Overall | Casual, affordable | Formal, elegant |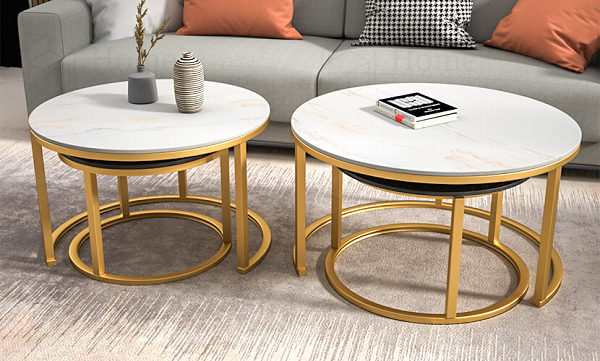 Style Ideas for Ottoman Coffee Tables
When using an ottoman as a coffee table, you have endless style possibilities. One approach is to turn it into a tray table. Choose a sturdy ottoman in a neutral color. Add a round silver, glass, or wood tray on top for holding drinks and snacks. This is a great way to get the look of an expensive coffee table using an affordable ottoman as the base.
Another good idea is to make the ottoman a statement piece. Try a bold color like emerald green or sapphire blue. Or choose a funky shape like a pom pom ottoman. Complement it with some eclectic decor like stacks of colorful books, a tray of candles, or a vase of flowers. The ottoman will instantly become the personality-filled focal point.
For traditional living rooms, pick a tufted leather ottoman in brown or black. Pair it with a set of matching leather armchairs or a chesterfield sofa. Add antique stacked books and objets d'art like an ornate box or crystal decanter. The result is a sophisticated, elegant arrangement perfect for formal spaces.
In bohemian or eclectic rooms, try a Moroccan leather pouf in a geometric pattern. Layer on some cozy throws, a pile of embroidered pillows, and some greenery like a potted fern. The pouf adds a global bazaar vibe when surrounded by other collected treasures.
For coastal-style rooms, use a slipcovered denim ottoman topped with a large seashell tray. Fill the tray with starfish and sand dollars alongside candles or a vase of dried grasses. The light and breezy look channels the essence of a beach cottage.
In modern and contemporary interior design spaces, pick a sleek acrylic or lucite ottoman to maintain the streamlined aesthetic. Top it with an architectural tray or a pile of glossy art books. Surround it with sculptural accents like ceramic garden stools and contemporary picture frames.
Don't know what's your furniture styles? Learn from our blog: Essential Guide to Different Furniture Styles
Ottoman Coffee Table Decor and Style
When it comes to decorating your ottoman coffee table, creativity is key. One approach is filling it with coffee table books that make a stylish stack to elevate artwork or a vase. Try organizing books by color for a gradient effect. Or fill the entire surface with different sized and patterned books.
You can also decorate the ottoman with decorative trays. Opt for trays with trim, beaded details, or an elegant shape. Fill them with small decor items like candles, petite vases, jewelry boxes, or mini garden figurines. Nestle the trays right on the ottoman or prop them on books for height.
For a cozy feel, drape the ottoman with chenille or velvet throws. Add a variety of patterned and textured pillows for lush, inviting softness. Place candlesticks right on the ottoman or use small plant stands or wood blocks to add different heights.
Would like to know more coffee table decor ideas? Check out our blog!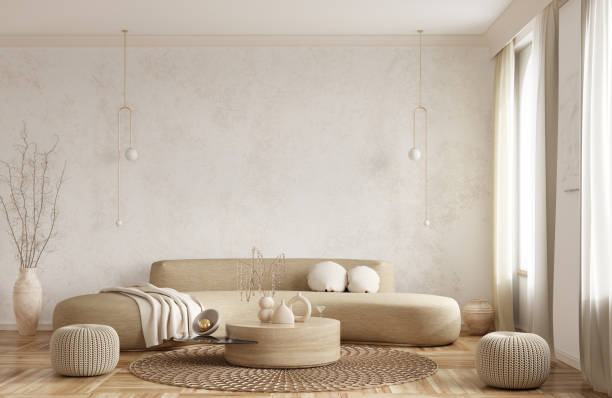 Storage Options for Ottoman Coffee Tables
One benefit of using an ottoman as a coffee table is getting extra storage space. Look for ottomans with lift-top lids to conceal enclosed storage chambers. Use this space to store books, blankets, board games or media accessories.
Some ottomans are even designed with slide-out drawers built right into the base. These drawers provide the perfect spot for stashing away remotes, chargers, notebooks and other small accessories. Choose an ottoman with generously sized drawers for maximum storage.
For additional storage around the living room, flank the ottoman with collapsible storage cubes or fabric bins. These can house items like throw pillows, pet toys, or extra controllers. Top them with a tray to create makeshift end tables.
If your ottoman doesn't have built-in storage, use baskets or fabric boxes to corral items under the ottoman. Opt for lidded boxes that fully conceal the contents inside. Cubes and baskets slide right under the ottoman within easy reach.
Shapes and Sizes of Ottoman Coffee Tables
Ottomans come in a variety of shapes and sizes to suit any space and style.
Square Ottomans
One of the most common is the square ottoman. With its right angles, it maximizes surface of your ottoman for drinks, books and more while fitting seamlessly against sofas and walls. Square ottomans around 36-40 inches are ideal dimensions for most living rooms.
Round Ottomans
Round ottomans are another popular choice because they soften room shapes and provide a focal point. Often used in the center of curved sectionals or small sitting areas, round ottomans range in diameter from about 30 inches for tighter spaces to 42 inches for generously proportioned rooms.
Rectangular Ottomans
Rectangular ottomans work well positioned in front of longer sofas. Aim for approximately 48-72 inches wide to allow enough leg room when used as a coffee table. Rectangles also enable creative configurations like placing two side by side as a modular sofa table.
Kidney Shaped Ottomans
Kidney shaped ottomans make a fun retro-inspired accent. Their curved silhouette softens angles in modern boxy spaces. For small rooms, choose petite 30-inch options, or go larger around 42 inches wide for a bigger impact.
Diamond Ottomans
Diamond ottomans add visual appeal with their angular shape. Try pairing two diagonal diamonds together to form an irregular octagon table base. Unusual shapes like crescent, oval and pom pom ottomans also make intriguing, sculptural accents.
Round vs. Square Ottoman Coffee Tables
When deciding between round vs. square ottomans, consider your room layout, seating configuration, and overall style. Square ottomans are great for maximizing surface space against walls or in corners. Their right angles seamlessly integrate with square sofas and sectionals.
Round ottomans make a sculptural centerpiece and work well with curved seating. They soften harsh lines and provide an eclectic focal point. Round ottomans can also stand alone better than squares when not anchored against furniture.
In small rooms, square ottomans conserve space since their flush edges sit against walls without protruding. Round ottomans can feel overly bulky in petite rooms or disrupt flow if not well integrated.
But in spacious living rooms, round ottomans create an intimate hub for seating without looking undersized. Their curves inject visual interest to offset minimalist decor.
Those with kids or pets may prefer a square ottoman's sturdy structure and flush edges over potential tipping hazards of rounded pedestal bases. But round ottomans create fewer stubbed toes from pointy corners if positioned in high traffic zones.
For craftsman or traditional rooms with predominantly blocky silhouettes, a square ottoman complements the existing lines. Or make a round ottoman pop as an accent against structured furniture.
Contemporary spaces set the stage for playing with shape. Try twinning a round ottoman with curved sofa seating and balancing it with square end tables or cube stools as an eclectic foil.
Ultimately the choice comes down to aesthetic preference and furniture positioning. Mixing ottoman shapes can provide visual interest so don't limit yourself to just one style. Evaluate your priorities, from available floor space to stylistic cohesion, to decide whether square or round works best.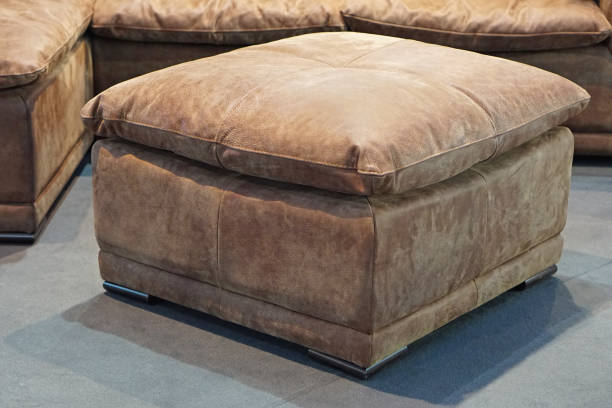 Leather vs. Fabric Ottoman Coffee Tables
Leather and fabric both have their benefits when it comes to ottoman coffee tables. Full-grain leather offers an ultra luxe feel with its supple texture. It's easy to clean, durable against spills, and ages well over time. And tufted leather ottomans have an elegantly tailored look perfect for formal living rooms. However, leather can be prone to scratching and fading.
In contrast, fabric ottomans allow for more color, print and pattern options to enliven a space. Textured fabrics like boucle, chenille and velvet provide cozy tactile appeal when used as casual seating. And performance fabrics like microfiber stand up well to wear and tear from pets or kids. However, fabric requires more maintenance than leather and can show stains, wrinkles or pilling over time.
Cost is a consideration too. Quality leather carries a higher price point than fabric. But inexpensive bonded leather can flake and peel. With fabric, you get great alternatives at lower price points. Yet delicate designer fabrics can still carry premium pricing.
Determining leather versus fabric depends on factors like room style, family lifestyle, usage and budget. Leather makes sense in grown-up living rooms or for longevity. But fabric allows you to incorporate prints and patterns that personalize a space. Ultimately both materials provide attractive options showcasing the ottoman as functional decor.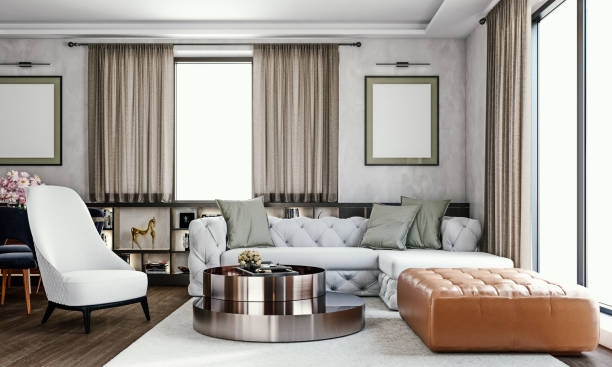 Tufted Ottoman Coffee Tables for a Classic Look
Tufted ottomans lend elegance and style to any living room as coffee tables. Their button-tufted tops create a classic, tailored appearance perfect for traditional spaces. Tufted ottomans come in leather, velvet, and linen for upscale appeal.
Leather tufted ottomans look striking in black, brown, or cognac full-grain leather. Pair them with chesterfield sofas and rich wood accents for a handsome, refined look. The leather wears beautifully over time while resisting pet hair, stains, and dirt.
For dramatic glamour, a tufted velvet ottoman in a jewel tone like emerald or sapphire makes a statement. Choose crushed or chenille velvet for plushness. Linen offers lightweight appeal for coastal or French country interiors.
Square tufted ottomans allow you to use trays on top to hold coffee table items while showing off the tufting. Round tufted ottomans make a sculptural centerpiece in the center of the room, especially when flanked by two chairs.
Diamond tufted ottomans provide visual punch from their unusual shapes. Tufting adds tactile dimension on top while exposed legs lighten the look underneath.
While shaped designs like scallops or florals can read more feminine, square tufting in large-scale, evenly spaced buttons achieves tailored masculinity. Deep button tufts sink in for shadow and texture.
For a contemporary twist, try a Lucite ottoman with crystal button tufting. Or place a tufted ottoman on a Moroccan trellis rug layered with fur throws for eclectic flair. However you style it, a tufted ottoman confers timeless sophistication.
Painted Ottoman Coffee Tables for Added Style
For budget-friendly customization, paint ottoman coffee tables in your favorite hues. Start with an inexpensive, unfinished wood ottoman frame. Sand the surface gently then apply two coats of water-based paint color of your choice. Finish with a non-yellowing water-based sealant for protection.
Choose glossy paint in bold citrine yellow or coral pink for a playful pop of color. Try deep forest green or navy blue for a more sophisticated look. For traditional flair, select a lacquered finish in antique white or soft robin's egg blue.
Add character by painting the ottoman base and top different colors. For example, use light blue on the bottom and vivid lemon yellow on top. Or create an ombre effect, gradually blending from darker to lighter paint hues.
Paint a pattern on the tabletop for artistic flair. Use painters tape to create clean lines in geometric shapes like triangles, diamonds or stripes. Stencil on shapes like stars, florals or scallops. Let dry then remove the tape to reveal a crisp painted design.
For a rustic-chic table, apply varying paint colors in layers, then sand edges to distress. Paint the ottoman to coordinate with throw pillows or an area rug's colors for a pulled-together look. However you choose to paint it, a customized ottoman adds personality as an artistic coffee table.
Trays and Toppers for Ottoman Coffee Tables
Trays and toppers are a quick and easiest way to style and customize ottoman coffee tables. For Ottomans without built-in shelves or drawers, trays create easy display surfaces for books, remotes, and decor.
Opt for large, oversized trays to cover most of the ottoman's surface. Trays with handles allow easy transporting of items from room to room. Look for trays with edges or rims to corral smaller objects from sliding off.
Metal, wood, woven and lucite trays all make great ottoman toppers. Seek out unique tray shapes like circular, oval and rectangular with beveled or scalloped edges. Try combining a few contrasting trays atop the ottoman at different angles.
Fill trays decoratively with coffee table books, candles, small plants, ceramic objects or coordinating boxes. This creates individual vignettes while keeping items contained on the tray top.
Look for trays with special details like inlaid stone, intricate carvings, or gilded edging for exotic global flair. A decorative tray instantly elevates a basic ottoman.
For extra coziness, layer ottomans with plush blankets or quilts as cushioned toppers. Fold edges under neatly to create a tailored effect. Consider seasonal swaps – fluffy faux fur in winter, light linen in summer.
You can also top ottomans with rigid tabletop surfaces like wood cutting boards, marble slabs, or rattan mats. Anchor them in place with nonslip pads or place trays on them to hold items securely.
However you top it, trays and toppers provide affordable options to update ottomans often. Get creative with layering trays, textiles and tabletops in different shapes and finishes for personalized style.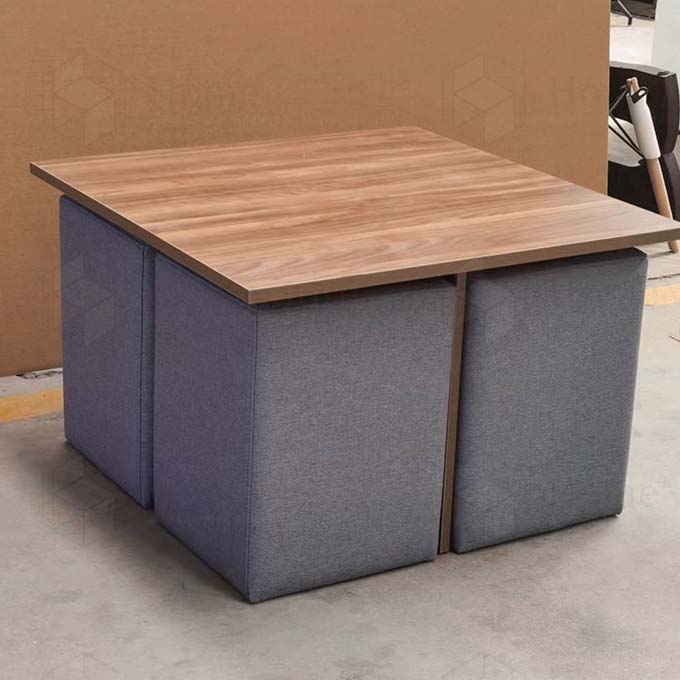 Ottoman Coffee Tables for Small Spaces
Ottomans make excellent coffee table options for small living rooms and apartments. Their compact footprints conserve precious square footage compared to bulky coffee tables.
Look for rectangular ottomans around 36 inches wide to fit perfectly in front of loveseats without crowding the space. Avoid overly large ottomans that obstruct pathways or dominate the room.
Low profile ottomans maintain open sightlines in narrow rooms. Make sure tall ottomans still allow enough leg room clearance underneath. Hutches and shelves built into ottomans conserve space by storing items out of sight.
Round ottomans with exposed legs have a lighter visual footprint to keep small rooms feeling airy. Avoid heavy ottomans with dense skirting that weigh down the space.
Opt for ottomans with casters to easily roll out of the way when you need a clear path or more floor room. Just be sure to lock the wheels in place when stationary for added safety and stability.
Dual purpose ottomans that serve as coffee tables can provide extra seats to maximize usefulness in small living spaces. Foldable cube ottomans tuck under existing sofas when not in use.
The right ottoman design opens up sightlines, provides compact utility and flexibility, and adds style in small rooms without overwhelming the space. Measure carefully and opt for lightweight visual pieces to keep your area feeling open and breezy.
Care and Maintenance Tips for Ottoman Coffee Tables
Proper care and cleaning are key to preserving your ottoman coffee table.
For leather ottomans, clean spills immediately with a damp cloth then dry with a towel. Apply leather conditioner regularly to prevent cracks.
Vacuum fabric ottomans frequently to prevent dirt buildup in fibers. Spot clean stains with a mild soap and water solution on a clean cloth. Avoid abrasive scrubbing to prevent pilling or damage.
Steam clean or professionally shampoo upholstered ottomans once or twice a year. This deep cleans fibers and restores brightness to fabrics. Just check the ottoman tag to ensure steam cleaning is approved for that model.
Rotate square ottomans periodically to evenly distribute wear. Plump crushed fiberfill or cushion stuffing to revive dents and divots in the surface. Remove keys, change and other hard objects from pockets before sitting to prevent permanent indentations.
For tufted ottomans, use a vacuum brush attachment to routinely clean tufts of dust and debris. Watch for loose or pulled threads along buttons and re-secure tufts to prevent further unraveling.
Protect wood or lucite ottoman bases from scratches using felt floor protectors under legs. Check screws and tighten hardware when needed to prevent structural instability or wobbling.
Condition leather annually using specialty leather cleaners and creams. Avoid placing ottomans directly in front of heating and cooling vents to prevent cracking from temperature extremes.
With regular cleaning, care and maintenance, an ottoman coffee table can stay beautiful for years. Handle spills promptly, rotate position, and replenish upholstery for longevity.
Conclusion
Ottomans make stylish and versatile coffee table options with benefits like extra seating, storage and affordable prices. From choosing shapes and materials to creative styling ideas, ottomans offer customization potential perfect for enhancing any living room. With practical design and design flexibility, ottomans provide attractive, functional alternatives to traditional coffee tables. So consider the unique advantages an ottoman can offer when selecting the finishing touch for your living room decor.